Scotch Eggs are a beloved British delicacy that combines the richness of a perfectly boiled egg with the savory goodness of seasoned sausage and a crispy breadcrumb coating. Whether you're looking for a satisfying snack, a picnic treat, or a party appetizer, these handheld delights are sure to impress. In this recipe, we'll guide you through the process of creating your own batch of homemade Scotch Eggs that are crispy on the outside, tender on the inside, and bursting with flavor.
Tips to Make Scotch Eggs
Choose the right eggs: Select fresh eggs that are not too large or small. Large eggs work well for Scotch Eggs. Ensure they are at room temperature before using.
Use high-quality sausages: Opt for good-quality sausages with a balance of flavors and a good meat-to-fat ratio. You can use pork sausages or other varieties like chicken or turkey sausages based on your preference.
Cook the eggs properly: To achieve a perfectly cooked egg with a soft, slightly runny yolk, boil them for about 6-7 minutes. Then immediately transfer them to an ice bath to cool quickly and stop the cooking process. This will make them easier to peel.
Season the sausage mixture: Add additional flavors to the sausage meat mixture by incorporating herbs, spices, or even grated cheese. This will enhance the overall taste of the Scotch Eggs.
Coat the eggs evenly: When wrapping the eggs with the sausage mixture, ensure it is evenly distributed around the egg. Use slightly wet hands or a lightly oiled surface to prevent the sausage mixture from sticking to your hands.
How To Make Scotch Eggs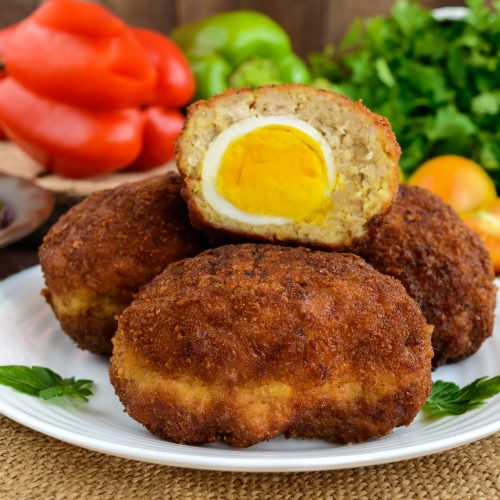 Classic Scotch Eggs Recipe: A Savory Delight for Any Occasion
Scotch Eggs are a beloved British delicacy that combines the richness of a perfectly boiled egg with the savory goodness of seasoned sausage and a crispy breadcrumb coating.
Ingredients
6

large eggs

1

pound

ground pork sausage

1/2

tsp

dried thyme

1/2

tsp

dried parsley

1/4

tsp

garlic powder

Salt and pepper to taste

1

cup

all-purpose flour

2

large eggs, beaten

1

cup

breadcrumbs

Vegetable oil, for frying
Instructions
Place the eggs in a saucepan and cover them with water. Bring the water to a boil, then reduce the heat and simmer for 6-7 minutes for slightly soft-boiled eggs. Remove the eggs from the saucepan and transfer them to a bowl of ice water to cool completely. Once cooled, carefully peel the eggs and set them aside.

In a mixing bowl, combine the ground pork sausage, dried thyme, dried parsley, garlic powder, salt, and pepper. Mix well until all the seasonings are evenly incorporated.

Take a portion of the seasoned sausage mixture (approximately 1/4 cup) and flatten it in the palm of your hand. Place a peeled boiled egg in the center of the sausage patty and gently wrap the sausage around the egg, ensuring it is fully covered. Repeat this step for each egg.

Prepare three separate bowls for the coating process. Place the flour in the first bowl, beaten eggs in the second bowl, and breadcrumbs in the third bowl.Roll each sausage-wrapped egg in flour, dip it in beaten eggs, and then coat it evenly with breadcrumbs, gently pressing the breadcrumbs onto the surface.Heat vegetable oil in a deep pan or fryer to around 350°F (175°C).Carefully lower the coated eggs into the hot oil using a slotted spoon or tongs. Fry them for about 4-5 minutes until they turn golden brown and crispy.

Serve the Scotch Eggs warm or at room temperature.You can enjoy them as they are or pair them with a side of tangy mustard or a fresh salad for a delightful contrast.Scotch Eggs are best consumed on the day they are made for optimal flavor and texture.To make a vegetarian version, substitute the ground pork sausage with a plant-based sausage alternative.
Nutrition
Calories:
350
kcal
Carbohydrates:
10
g
Protein:
15
g
Fat:
25
g
Saturated Fat:
8
g
Cholesterol:
250
mg
Sodium:
600
mg
Fiber:
1
g
Sugar:
1
g
Scotch Eggs are a true crowd-pleaser, combining the simple satisfaction of a hard-boiled egg with the hearty flavors of seasoned sausage and a crunchy breadcrumb coating. This classic recipe allows you to recreate the beloved British treat right in your own kitchen.