Start your day with a burst of energy and essential nutrients by whipping up our invigorating Breakfast Power Smoothie. This vibrant concoction combines a variety of wholesome ingredients, from ripe bananas and mixed berries to leafy greens and protein-packed Greek yogurt. Whether you're rushing out the door or simply looking for a nutritious way to kickstart your morning, this smoothie has you covered. Packed with vitamins, minerals, fiber, and protein, it's a delicious and satisfying way to fuel your day.
Tips for the Perfect Breakfast Power Smoothie:
Greens: Don't be shy about adding fresh spinach or kale. They're packed with nutrients and won't significantly affect the flavor of the smoothie.
Protein Powder: Choose a high-quality protein powder that aligns with your dietary preferences and flavor preferences.
Customize Sweetness: Adjust the sweetness by adding more or less honey. The ripe banana and berries already provide natural sweetness.
Texture Preferences: Modify the thickness by adding ice cubes or more almond milk. Adjust to your preferred consistency.
Variations: Feel free to experiment with different fruits, such as mango, pineapple, or peaches. You can also add a tablespoon of nut butter for extra creaminess.
How To Make Breakfast Power Smoothie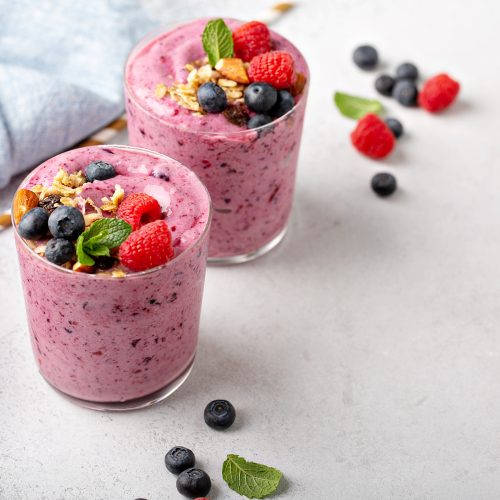 Breakfast Power Smoothie Recipe
Start your day with a burst of energy and essential nutrients by whipping up our invigorating Breakfast Power Smoothie.
Ingredients
1

cup

unsweetened almond milk (or milk of your choice)

1/2

cup

Greek yogurt

1

ripe banana

1/2

cup

frozen mixed berries (such as strawberries, blueberries, raspberries)

1

small apple, cored and sliced

1

handful of fresh spinach or kale leaves

1

tbsp

chia seeds or flax seeds

1

scoop

your favorite protein powder (whey, plant-based, etc.)

1

tbsp

honey (optional, for sweetness)

A pinch of cinnamon (optional)

4-5

ice cubes
Instructions
Prepare Your Blender:

Ensure your blender is clean and ready for use.

Combine Ingredients:

In the blender, add the unsweetened almond milk, Greek yogurt, ripe banana, frozen mixed berries, apple slices, fresh spinach or kale leaves, chia seeds or flax seeds, protein powder, honey (if using), a pinch of cinnamon (if desired), and ice cubes (if you prefer a colder, thicker smoothie).

Blend Until Smooth:

Blend all the ingredients until you achieve a smooth and creamy consistency. If needed, you can add more almond milk to reach your desired thickness.

Taste and Adjust:

Taste the smoothie and adjust the sweetness or thickness to your liking. You can add more honey or almond milk if needed.

Serve and Enjoy:

Pour the Breakfast Power Smoothie into a large glass, garnish with a sprinkle of cinnamon or a few berries if desired, and enjoy immediately.
Nutrition
Serving:
1
g
Calories:
400
kcal
Carbohydrates:
60
g
Protein:
25
g
Fat:
10
g
Fiber:
12
g
Sugar:
32
g
This Breakfast Power Smoothie is an excellent way to fuel your body with essential nutrients and maintain energy throughout the morning. It's a convenient and tasty breakfast option that can be customized to suit your tastes and dietary needs. Enjoy your nutritious start to the day!