Bulking Shake, designed to help you increase your calorie intake and support muscle growth. This shake is rich in protein, healthy fats, and carbohydrates, making it an excellent choice for those looking to bulk up.
Tips for the Perfect Bulking Shake:
Use Whole Milk: Whole milk is higher in calories and healthy fats, making it an excellent choice for a bulking shake. However, you can use any milk that suits your dietary preferences.
Protein Powder: Choose a high-quality protein powder that fits your dietary needs and flavor preferences.
Customize Your Sweetness: Adjust the sweetness by adding more or less honey. Keep in mind that the ripe banana and protein powder can add natural sweetness.
Add More Calories: If you're looking to increase the calorie content, consider adding extras like chia seeds, flax seeds, or a scoop of nut butter.
Texture Preferences: Adjust the thickness by adding ice cubes or more milk. Some prefer a thinner shake, while others like it thick and creamy.
Variations: Feel free to get creative by adding ingredients like spinach for added nutrients or cocoa powder for a chocolatey twist.
How To Make Bulking Shake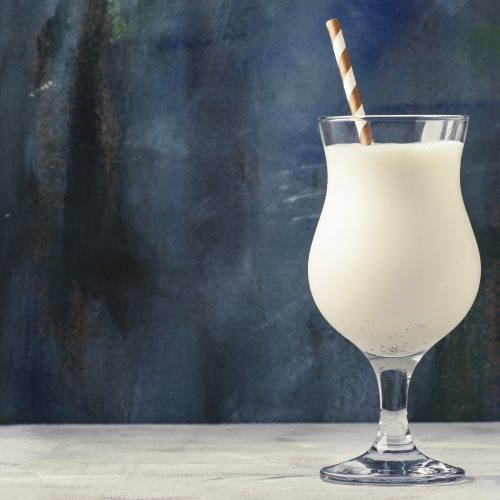 Bulking Shake Recipe
Bulking Shake, designed to help you increase your calorie intake and support muscle growth.
Ingredients
1

cup

whole milk (or milk of your choice)

1/2

cup

Greek yogurt

1

ripe banana

2

tbsp

peanut butter (or almond butter)

1/4

cup

rolled oats

1

scoop

your favorite protein powder (whey, plant-based, etc.)

1

tbsp

honey (optional, for sweetness)

1/2

tsp

cinnamon

4-5

ice cubes (optional, for thickness)

A pinch of salt
Instructions
Prepare Your Blender:

Ensure your blender is clean and ready for use.

Combine Ingredients:

In the blender, add the whole milk, Greek yogurt, ripe banana, peanut butter, rolled oats, protein powder, honey (if using), cinnamon, and a pinch of salt.

Blend Until Smooth:

Blend all the ingredients until you achieve a smooth and creamy consistency. If you prefer a thicker shake, you can add some ice cubes and blend again until well incorporated.

Taste and Adjust:

Taste the shake and adjust the sweetness or thickness to your liking. You can add more honey or milk if needed.

Serve and Enjoy:

Pour the Bulking Shake into a large glass, garnish with a sprinkle of cinnamon or a banana slice if desired, and enjoy immediately.
Nutrition
Serving:
1
g
Calories:
650
kcal
Carbohydrates:
70
g
Protein:
35
g
Fat:
30
g
Fiber:
8
g
Sugar:
30
g
This Bulking Shake is not only delicious but also a convenient way to increase your calorie and protein intake. It's perfect for post-workout recovery or as a meal replacement during your bulking phase. Enjoy your journey toward gaining lean muscle mass with this nutritious shake!