Chawanmushi is a traditional Japanese dish, which translates to "steamed in a tea bowl." It is a savory egg custard that is steamed in individual cups or ramekins. The dish has a delicate and silky texture, making it a delightful and comforting appetizer or side dish. Chawanmushi is typically served as part of a multi-course meal, such as kaiseki ryori, or as a stand-alone dish in Japanese restaurants.
Tips for Making Chawanmushi:
Use high-quality dashi: The base of chawanmushi is the dashi, a Japanese soup stock typically made from kombu (dried kelp) and bonito flakes. Using high-quality dashi will greatly enhance the flavor of your custard.
Strain the egg mixture: To achieve a smooth and silky texture, be sure to strain the egg mixture through a fine mesh sieve before pouring it into the cups. This step will remove any lumps and ensure an even consistency.
Serve immediately: Gently remove the cups from the steamer using a pair of tongs or a towel, and serve immediately.
How To Make Chawanmushi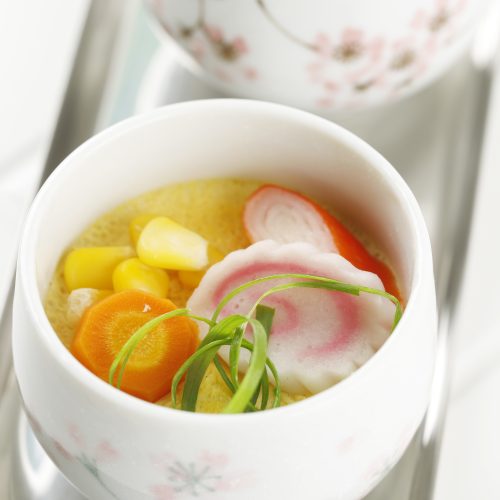 Chawanmushi: A Delicate Japanese Steamed Egg Custard
Chawanmushi, a delicate Japanese steamed egg custard, is a traditional dish that combines the subtle flavors of eggs, dashi, and various ingredients such as shiitake mushrooms, shrimp, and kamaboko (fish cake).
Ingredients
2

cup

dashi (Japanese soup stock)

4

large eggs

1

tbsp

soy sauce

1

tbsp

tablespoon mirin (Japanese sweet cooking rice wine)

1/2

tsp

salt

4

shiitake mushrooms, stems removed and thinly sliced

4

small cooked shrimp, peeled and deveined

4

thin slices of kamaboko (fish cake)

4

sprigs of mitsuba (Japanese parsley) or cilantro, for garnish
Instructions
Prepare the dashi if you are using a homemade version or reconstitute it from a granulated or liquid concentrate according to the package directions.

In a medium bowl, gently whisk the eggs until well beaten but not frothy.

In a separate bowl, combine the dashi, soy sauce, mirin, and salt. Stir well to combine.

Slowly pour the dashi mixture into the beaten eggs, whisking continuously to create a uniform mixture.

Strain the egg mixture through a fine mesh sieve into a large measuring cup or a bowl with a pouring spout to ensure a smooth and even consistency.

Evenly distribute the sliced shiitake mushrooms, shrimp, and kamaboko among four heatproof cups or ramekins. Each cup should be about half full.

Carefully pour the egg mixture over the ingredients in each cup, filling them almost to the top.

Cover each cup with aluminum foil or a heatproof lid.

Fill a large pot or a steamer with about 2 inches of water and bring it to a gentle simmer.

Place the cups in the steamer, cover the pot, and steam the custard over low heat for 15-20 minutes, or until the custard is set but still slightly jiggly in the center. You can check the doneness by inserting a skewer into the center of the custard; it should come out clean.

Carefully remove the cups from the steamer using a pair of tongs or a towel.

Garnish each chawanmushi with a sprig of mitsuba or cilantro. Serve immediately. Enjoy your homemade Chawanmushi!
Nutrition
Calories:
80
kcal
Carbohydrates:
3
g
Protein:
6
g
Fat:
5
g
Cholesterol:
110
mg
Sodium:
450
mg
Chawanmushi is a delightful Japanese dish that showcases the delicate flavors and textures of steamed egg custard. Its versatility allows you to incorporate a wide range of ingredients, making it an excellent choice for special occasions or casual gatherings. Happy cooking!