The Classic Bacon and Egg Sandwich is a beloved breakfast option that combines the satisfying crunch of crispy bacon with the creamy goodness of eggs, all nestled between two slices of toasted bread. It's a simple yet delicious way to start your day. In this recipe, we'll show you how to make the perfect Bacon and Egg Sandwich with tips for achieving that ideal balance of flavors and textures.
Tips for the Perfect Bacon and Egg Sandwich:
Cook the bacon until it's crispy but not overly burnt.
Use a non-stick skillet for cooking the eggs to prevent sticking.
Don't overcook the eggs; they should be soft and slightly runny for a creamy texture.
Customize your sandwich with your favorite toppings like lettuce, tomato, avocado, or cheese.
Experiment with different types of bread for unique flavor variations.
Enjoy your sandwich immediately while it's warm and the flavors are at their best.
How To Make Bacon and Egg Sandwich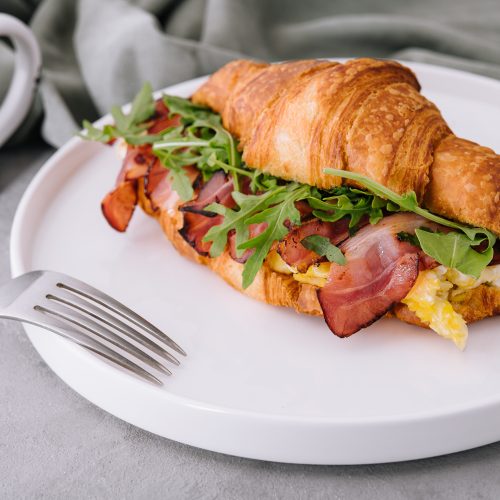 Classic Bacon and Egg Sandwich Recipe
It's a simple yet delicious way to start your day.
Ingredients
4

slices of bacon

2

large eggs

2

slices of your favorite bread (white, whole wheat, or your preference)

Butter or cooking spray for toasting the bread

Salt and pepper to taste

Optional toppings: lettuce, tomato, avocado, or cheese
Instructions
Start by cooking the bacon. You can do this in a skillet over medium heat or in the oven at 400°F (200°C) until it's crispy and browned. Place cooked bacon on paper towels to drain excess grease.

In a small bowl, crack the eggs and beat them until the yolks and whites are well combined. Season with a pinch of salt and pepper.

Heat a non-stick skillet over medium-low heat. Add a small amount of butter or cooking spray to prevent sticking.

Pour the beaten eggs into the skillet and let them cook undisturbed for a moment. Then, gently stir with a spatula, occasionally lifting and folding the eggs to create soft, fluffy curds. Cook to your preferred level of doneness (usually a minute or two).

Remove the skillet from heat when the eggs are still slightly runny, as they will continue to cook off the heat. Overcooked eggs can become dry.

While the eggs are cooking, toast your bread to your desired level of crispiness. You can use a toaster, toaster oven, or a skillet with a bit of butter.

Place the toasted bread slices on a clean surface. If desired, spread a thin layer of butter or mayonnaise on the bread for added flavor.

Slice the sandwich in half diagonally to make it easier to eat.
Nutrition
Serving:
1
g
Calories:
350
kcal
Carbohydrates:
30
g
Protein:
15
g
Fat:
25
g
Saturated Fat:
8
g
Cholesterol:
220
mg
Sodium:
600
mg
Fiber:
4
g
Enjoy your Classic Bacon and Egg Sandwich! It's a comforting and satisfying breakfast classic that's perfect for any time of day.