A soufflé is the epitome of elegance in French cuisine, and making a perfect soufflé is often seen as a culinary achievement. This classic Cheese Soufflé recipe will not only impress your guests but also elevate your cooking skills. Let's embark on this delightful culinary journey.
Tips for Perfect Cheese Soufflé:
Use room temperature eggs for easier separation and better volume when whipping the egg whites.
Be gentle when folding in the egg whites to maintain the soufflé's airy texture.
Serve the soufflé immediately after baking, as it will begin to deflate once out of the oven.
Experiment with different cheeses for variations in flavor. Gruyère, Swiss, cheddar, and Parmesan all work well.
Customize your soufflé by adding herbs, sautéed mushrooms, or diced ham for extra flavor.
How To Make Cheese Soufflé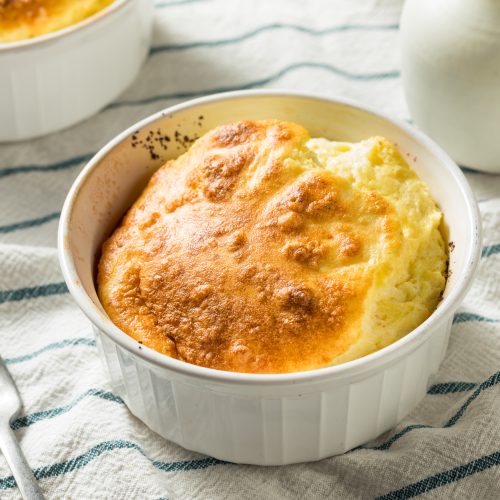 Classic Cheese Soufflé Recipe: Elevate Your Culinary Skills
A soufflé is the epitome of elegance in French cuisine, and making a perfect soufflé is often seen as a culinary achievement.
Ingredients
3

tbsp

unsalted butter

3

tbsp

all-purpose flour

1

cup

whole milk, warmed

1/2

tsp

salt

1/4

tsp

black pepper

1/4

tsp

cayenne pepper (optional, for a bit of heat)

1 1/2

cup

grated Gruyère or Swiss cheese

4

large eggs, separated

1/4

tsp

cream of tartar

Pinch of salt
Instructions
Preheat the Oven:

Preheat your oven to 375°F (190°C). Place a baking sheet on the center rack to catch any drips.

Prepare the Soufflé Dish:

Butter a 1.5 to 2-quart soufflé dish generously. Sprinkle grated cheese inside the dish to coat the sides and bottom. Tap out any excess cheese.

Make the Roux:

In a medium saucepan, melt the butter over medium heat. Stir in the flour and cook for about 1-2 minutes until it forms a smooth paste (roux). Do not let it brown.Slowly whisk in the warm milk until the mixture is smooth and thickened. Continue to cook, stirring constantly, for 2-3 minutes.Remove the saucepan from heat and add salt, black pepper, cayenne pepper (if using), and grated cheese. Stir until the cheese is fully melted and the mixture is smooth. Let it cool slightly.

Separate the Eggs:

Separate the egg yolks from the whites. Place the yolks in a large bowl and the whites in a clean, dry bowl.

Combine Yolks and Cheese Mixture:

Whisk the egg yolks into the slightly cooled cheese mixture until well combined.

Whip the Egg Whites:

In a clean, dry bowl, use an electric mixer to beat the egg whites until frothy. Add a pinch of salt and the cream of tartar. Continue beating until stiff peaks form.

Fold in the Egg Whites:

Gently fold about one-third of the beaten egg whites into the cheese mixture to lighten it. Then, carefully fold in the remaining egg whites until no streaks remain.

Bake:

Pour the soufflé mixture into the prepared soufflé dish. Smooth the top with a spatula.Place the soufflé dish on the baking sheet in the preheated oven.Bake for 25-30 minutes or until the soufflé has risen, is golden brown on top, and slightly jiggles in the center.

Serve Immediately:

Soufflés are best served immediately as they tend to deflate quickly. Serve your Cheese Soufflé right out of the oven, and enjoy!
Nutrition
Serving:
4
g
Calories:
320
kcal
Carbohydrates:
9
g
Protein:
19
g
Fat:
23
g
Saturated Fat:
13
g
Cholesterol:
230
mg
Sodium:
570
mg
Sugar:
3
g
Mastering the art of making a Cheese Soufflé is a rewarding culinary achievement. The delicate rise and irresistible flavor make it a standout dish for special occasions or whenever you want to impress your guests with your cooking prowess. Enjoy your journey into the world of soufflés!