Crème Brûlée is a classic French dessert that combines creamy custard with a caramelized sugar crust. Its elegant simplicity and decadent flavors make it a favorite among dessert enthusiasts. In this recipe, we'll guide you through the steps to create the perfect Crème Brûlée.
Tips for Perfect Crème Brûlée:
Use room temperature egg yolks for a smoother custard.
Strain the custard mixture to ensure a silky texture.
Be cautious when caramelizing the sugar; it can go from golden to burnt quickly.
Allow the custards to cool before serving to let the caramelized sugar harden.
How To Make Crème Brûlée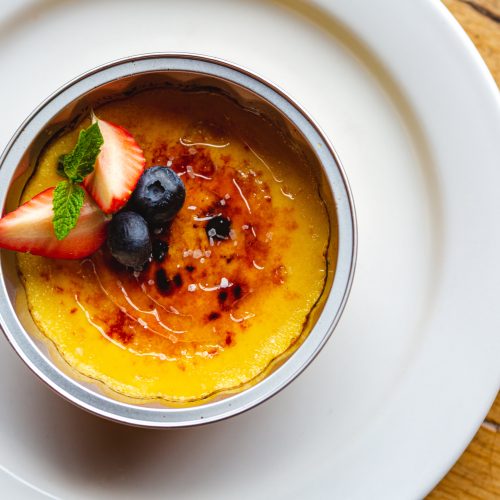 Classic Crème Brûlée Recipe: A French Delight
Crème Brûlée is a classic French dessert that combines creamy custard with a caramelized sugar crust.
Ingredients
1

cup

heavy cream

1

cup

whole milk

1/2

cup

granulated sugar

6

large egg yolks

1

tsp

pure vanilla extract

A pinch of salt

3-4

tbsp

granulated sugar (for caramelizing)
Instructions
Preheat the Oven: Preheat your oven to 325°F (160°C). Place a kettle of water on the stove to boil; you'll need this for the water bath.

Prepare the Custard Base: In a medium saucepan, combine the heavy cream and whole milk. Heat over medium-low heat until it begins to steam, but do not let it boil. Remove from heat and set aside.

Whisk Egg Yolks: In a separate bowl, whisk the egg yolks, granulated sugar, vanilla extract, and a pinch of salt until the mixture is pale and slightly thickened.

Combine Mixtures: Gradually pour the warm cream mixture into the egg yolk mixture, whisking constantly to prevent curdling. Strain the combined mixture through a fine-mesh sieve into a large bowl to remove any lumps.

Fill Ramekins: Divide the custard mixture evenly among six 6-ounce ramekins. Place the ramekins in a deep baking dish.

Create a Water Bath: Pour the hot water from the kettle into the baking dish around the ramekins. The water should reach about halfway up the sides of the ramekins.

Bake: Carefully transfer the baking dish to the preheated oven. Bake for 35-40 minutes, or until the custards are set around the edges but still slightly jiggly in the center.

Chill: Remove the ramekins from the water bath and let them cool to room temperature. Then cover each with plastic wrap and refrigerate for at least 2 hours (or overnight) to chill and set.

Caramelize the Sugar: Just before serving, sprinkle a thin layer (about 1/2 to 1 tablespoon) of granulated sugar evenly over the top of each custard. Use a kitchen torch to caramelize the sugar until it's golden brown and crispy. Alternatively, place the ramekins under a broiler for 1-2 minutes to achieve the same effect. Keep a close eye to avoid burning.

Serve: Allow the Crème Brûlée to cool for a few moments before serving. The caramelized sugar will harden into a crackly top, providing a delightful contrast to the creamy custard beneath.
Nutrition
Serving:
6
g
Calories:
340
kcal
Carbohydrates:
24
g
Protein:
5
g
Fat:
26
g
Saturated Fat:
14
g
Cholesterol:
245
mg
Sodium:
45
mg
Sugar:
21
g
Crème Brûlée is a dessert that never fails to impress with its creamy, velvety custard and crackling caramelized sugar top. With a few simple ingredients and careful preparation, you can create this French delight right in your own kitchen. Enjoy the luxurious taste of Classic Crème Brûlée!