The classic Egg Cream, despite its name, contains neither eggs nor cream. This beloved New York City beverage is a delightful combination of seltzer, milk, and chocolate syrup. With its frothy head and refreshing taste, the Egg Cream has been a fixture at soda fountains and delis for generations. Join us as we explore the history and art of making this timeless treat.
Tips To Make it Perfect:
Use Quality Ingredients: While Fox's U-Bet chocolate syrup is the traditional choice, you can use your favorite chocolate syrup.
Chill the Glass: Chilling the glass helps keep the Egg Cream cold and frothy.
Seltzer Tips: Make sure your seltzer water is well carbonated for maximum fizz.
Experiment: The Egg Cream is highly customizable. Adjust the syrup and milk amounts to your taste.
Serve Fresh: Enjoy your Egg Cream as soon as you make it for the best flavor and fizz.
How To Make Egg Cream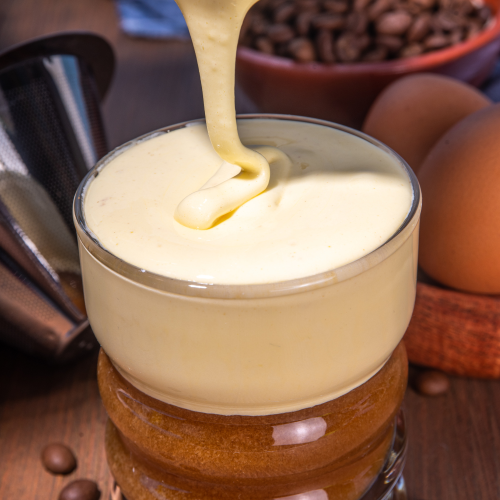 Classic Egg Cream Recipe – A Taste of Nostalgia
The classic Egg Cream, despite its name, contains neither eggs nor cream.
Ingredients
1/4

cup

whole milk

3/4

cup

(6 ounces) seltzer water (carbonated water)

2

tbsp

chocolate syrup (traditionally Fox's U-Bet chocolate syrup)

Ice cubes (optional)

Tall glass (usually a 16-ounce glass)
Instructions
Chill the Glass: To ensure your Egg Cream stays refreshingly cold, start by chilling the tall glass in the freezer for about 10 minutes.

Add Chocolate Syrup: Pour the chocolate syrup into the bottom of the chilled glass. You can adjust the amount of syrup to suit your desired sweetness.

Pour Milk: Gently pour the whole milk into the glass over the chocolate syrup. Do this slowly to prevent the two from mixing too much just yet.

Stir the Milk: Use a long spoon or a swizzle stick to gently stir the milk and chocolate syrup together. This should create a smooth chocolatey base.

Add Seltzer: Now, it's time to add the seltzer water. Slowly pour the seltzer down the side of the glass, allowing it to mix naturally with the milk and chocolate syrup. The fizz will create a frothy head. Some folks like to add seltzer until the glass is about 3/4 full, but you can adjust this based on your preference.

Stir Again (Optional): If you prefer your Egg Cream extra frothy, give it a gentle stir. This will blend the milk, syrup, and seltzer further while maintaining that iconic frothy top.

Serve Immediately: For the true experience, serve your Egg Cream immediately. It's best enjoyed with a straw for sipping the froth and then mixing in the rest of the flavors.
Nutrition
Serving:
1
g
Calories:
150
kcal
Carbohydrates:
25
g
Protein:
4
g
Fat:
4
g
Step back in time and experience the joy of sipping on a classic Egg Cream. It's a delightful, effervescent treat that has stood the test of time, capturing the essence of old-school soda fountain charm.