Egg Salad is a timeless classic that never goes out of style. With its creamy texture and rich flavor, it's the perfect sandwich filling, salad topper, or appetizer. In this recipe, we'll show you how to make the best Egg Salad with a few simple ingredients and tips for perfection.
Tips for Perfect Egg Salad:
Perfectly Boiled Eggs: Start with well-boiled eggs. The ice bath after boiling helps prevent a greenish ring from forming around the yolk.
Consistent Chopping: Chop the eggs into small, uniform pieces for a consistent texture.
Creamy Dressing: Adjust the mayo and mustard to your preferred creaminess and tanginess levels.
Customize: Add other ingredients like diced pickles, relish, or chopped herbs for additional flavor and texture.
Refrigerate Before Serving: Chilling the salad for at least 30 minutes allows the flavors to meld and makes it taste even better.
How To Make Egg Salad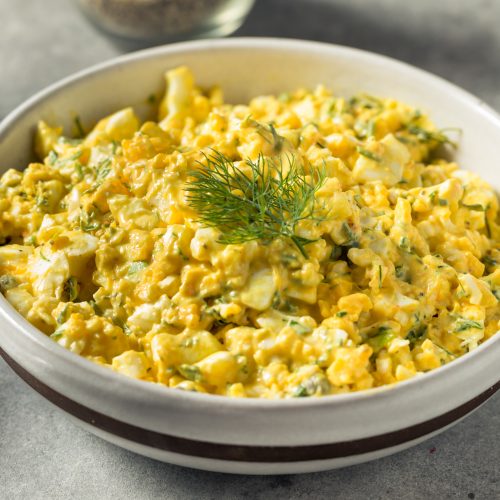 Classic Egg Salad Recipe: Simple, Creamy, and Delicious
Egg Salad is a timeless classic that never goes out of style.
Ingredients
6

large eggs, hard-boiled and peeled

1/4

cup

mayonnaise

1

tsp

Dijon mustard

1/2

tsp

white vinegar

1/2

tsp

salt, or to taste

1/4

tsp

black pepper, or to taste

1/4

cup

finely chopped celery

2

tbsp

finely chopped red onion

1

tbsp

fresh parsley, finely chopped (optional)

Paprika for garnish (optional)
Instructions
Hard-Boil the Eggs: Place the eggs in a saucepan and cover them with cold water. Bring the water to a boil, then reduce the heat to a simmer. Cook for 9-12 minutes. Once done, transfer the eggs to an ice bath to cool completely. This will make them easier to peel.

Peel and Chop: Once the eggs are cool, peel them and chop them into small pieces. You can use an egg slicer or a knife for this step.

Prepare the Dressing: In a bowl, combine the mayonnaise, Dijon mustard, white vinegar, salt, and black pepper. Mix until the dressing is smooth and well blended.

Combine with Eggs: Add the chopped eggs to the dressing and gently fold them together until the eggs are evenly coated.

Add Veggies: Stir in the finely chopped celery, red onion, and fresh parsley if you're using it. These add a delightful crunch and flavor to the salad.

Chill: Cover the Egg Salad and refrigerate it for at least 30 minutes. Chilling allows the flavors to meld and makes the salad even more delicious.

Serve: When ready to serve, garnish with a sprinkle of paprika for a pop of color and flavor. You can enjoy Egg Salad on a sandwich, in a wrap, on crackers, or as a salad topping.
Nutrition
Serving:
1
cup
Calories:
80
kcal
Carbohydrates:
1
g
Protein:
3
g
Fat:
7
g
Saturated Fat:
1.5
g
Cholesterol:
95
mg
Sodium:
160
mg
This Classic Egg Salad recipe is a timeless favorite that's easy to prepare and wonderfully versatile. Enjoy it as a sandwich, wrap, or on its own as a salad. With just a few simple ingredients and some basic kitchen skills, you can whip up a creamy and delicious Egg Salad that's perfect for any occasion.