Kedgeree is a delightful British-Indian dish that brings the best of both culinary worlds to your table. This flavorful combination of rice, fish, and eggs is perfect for a hearty breakfast or a satisfying dinner. It's a versatile dish that can be adapted to suit your personal preferences. In this blog post, we'll explore the history of kedgeree, share a delicious recipe, and offer some tips for making it at home.
Tips for Making Kedgeree:
Choose your fish wisely: Traditionally, kedgeree is made with smoked haddock, but you can also use other types of smoked fish like salmon or trout. Fresh fish can also be used, but be sure to season it well with salt and pepper before cooking.
Adjust the spiciness: Kedgeree is a mildly spiced dish, but feel free to adjust the heat to your liking. You can add more curry powder, use a spicier curry blend, or even add some fresh chilies or chili powder.
Add some veggies: Boost the nutritional content of your kedgeree by adding some vegetables. Peas, carrots, or bell peppers are all great options that will blend well with the dish's flavors.
Use leftover rice: Kedgeree is a great way to use up leftover rice. Just be sure to adjust the cooking time accordingly, as you'll only need to heat the rice through rather than cook it from scratch.
Garnish wisely: A simple garnish can elevate your kedgeree to new heights. Some popular options include chopped fresh parsley, cilantro, or green onions. You can also add a sprinkle of paprika or cayenne pepper for a pop of color and added flavor.
How To Make Kedgeree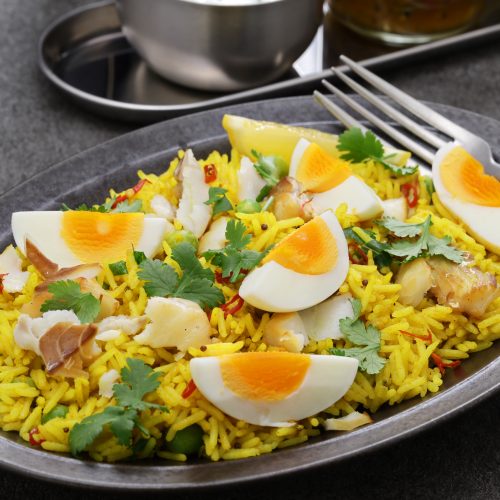 Classic Kedgeree: A British-Indian Culinary Fusion
Kedgeree is a delightful British-Indian dish that brings the best of both culinary worlds to your table.
Ingredients
11/2

cup

basmati rice

3

cup

water

1

lb

smoked haddock or other smoked fish (salmon, trout)

1

cup

milk

1

medium onion, finely chopped

2

tbsp

butter or oil

11/2

tbsp

curry powder

1/4

tsp

turmeric

4

hard-boiled eggs, peeled and roughly chopped

1/2

cup

frozen peas (optional)

Salt and pepper, to taste

Chopped fresh parsley or cilantro, for garnish
Instructions
Rinse the basmati rice in cold water until the water runs clear. In a medium saucepan, combine the rinsed rice with 3 cups of water. Bring to a boil, then reduce heat to low, cover, and simmer for 15-20 minutes, or until the rice is cooked and all the water has been absorbed. Remove from heat and let it sit, covered, for 5 minutes. Then, fluff the rice with a fork and set aside.

In a separate pan, gently poach the smoked haddock in milk over low heat for about 5 minutes, or until the fish is cooked through. Remove the fish from the milk, and set aside to cool. Once cooled, flake the fish into bite-sized pieces, removing any bones.

In a large skillet or frying pan, heat the butter or oil over medium heat. Add the chopped onion and cook until softened and translucent, about 5 minutes.

Stir in the curry powder and turmeric, and cook for another 1-2 minutes, until fragrant.

Add the cooked rice to the skillet with the onions and spices, and gently mix everything together. Fold in the flaked fish and chopped hard-boiled eggs, along with the frozen peas if using. Season with salt and pepper to taste. Cook for a few more minutes, until everything is heated through.

Transfer the kedgeree to a serving dish, and garnish with chopped fresh parsley or cilantro. Serve immediately, and enjoy your British-Indian fusion meal.
Nutrition
Calories:
450
kcal
Carbohydrates:
50
g
Protein:
28
g
Fat:
15
g
Saturated Fat:
3
g
Cholesterol:
210
mg
Sodium:
650
mg
Fiber:
2
g
Sugar:
2
g
Kedgeree is a delicious and versatile dish that's perfect for any time of day. With its rich history and unique blend of flavors, it's a dish that's sure to impress your family and friends. Give our recipe a try and enjoy this delightful British-Indian fusion in the comfort of your own home.