Spaghetti Carbonara is a beloved Italian pasta dish known for its simplicity and rich, creamy sauce. This recipe combines perfectly cooked pasta with crispy pancetta, Parmesan cheese, and eggs to create a comforting and satisfying meal. Let's dive into the world of Carbonara.
Tips for Perfect Spaghetti Carbonara:
Use high-quality Parmesan cheese and grate it yourself for the best flavor.
Make sure to whisk the egg and cheese mixture thoroughly before adding it to the pasta.
Work quickly when tossing the hot pasta with the egg mixture to prevent the eggs from scrambling.
Adjust the amount of black pepper to your taste. Carbonara is known for its bold peppery flavor.
If you're concerned about raw eggs, you can gently heat the sauce over low heat while stirring continuously, but be careful not to overcook it.
How To Make Spaghetti Carbonara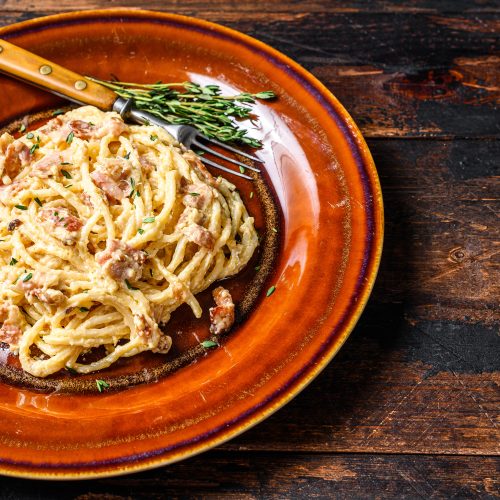 Classic Spaghetti Carbonara: A Taste of Italy
Spaghetti Carbonara is a beloved Italian pasta dish known for its simplicity and rich, creamy sauce.
Ingredients
12

ounces

spaghetti or fettuccine

2

large eggs

1

cup

grated Parmesan cheese

4

ounces

pancetta or guanciale, diced

2

cloves garlic, minced

Freshly ground black pepper

Salt (for pasta cooking water)

Fresh parsley, chopped (for garnish, optional)
Instructions
Prepare the Pasta:

Bring a large pot of salted water to a boil. Add the spaghetti or fettuccine and cook according to the package instructions until al dente. Reserve about 1/2 cup of pasta cooking water before draining.

Cook the Pancetta:

While the pasta is cooking, heat a skillet over medium-high heat. Add the diced pancetta and cook until it becomes crispy, about 5-7 minutes. Remove the pancetta from the skillet and place it on a plate lined with paper towels to drain.

Prepare the Sauce:

In a bowl, whisk together the eggs, grated Parmesan cheese, minced garlic, and a generous amount of freshly ground black pepper. You want the mixture to be well combined and creamy.

Combine Everything:

Once the pasta is cooked, drain it and return it to the pot while it's still hot. Immediately add the cooked pancetta and toss to combine.Pour the egg and cheese mixture over the hot pasta and quickly toss everything together. The heat from the pasta will cook the eggs, creating a creamy sauce. If the sauce seems too thick, add a splash of the reserved pasta cooking water to reach your desired consistency.

Serve and Garnish:

Divide the Carbonara among serving plates, making sure to distribute the pancetta evenly. Garnish with freshly chopped parsley and an extra sprinkle of grated Parmesan cheese.
Nutrition
Serving:
4
g
Calories:
470
kcal
Carbohydrates:
49
g
Protein:
25
g
Fat:
19
g
Saturated Fat:
9
g
Cholesterol:
140
mg
Sodium:
660
mg
Fiber:
2
g
Sugar:
2
g