Tiramisu, the beloved Italian dessert, is a true masterpiece of flavors and textures. Layers of coffee-soaked ladyfingers are interlaced with a creamy mixture of mascarpone cheese, eggs, and a hint of cocoa. In this recipe, we'll show you how to create the perfect Tiramisu that will transport your taste buds to Italy.
Tips for Perfect Tiramisu:
Use high-quality ingredients, especially the mascarpone cheese and coffee, for the best flavor.
Don't soak the ladyfingers for too long, or they will become mushy. A quick dip is all they need.
Allow the Tiramisu to chill in the refrigerator for several hours or overnight. This enhances the flavor and texture.
For an elegant presentation, use serving glasses or individual dessert dishes.
How To Make Tiramisu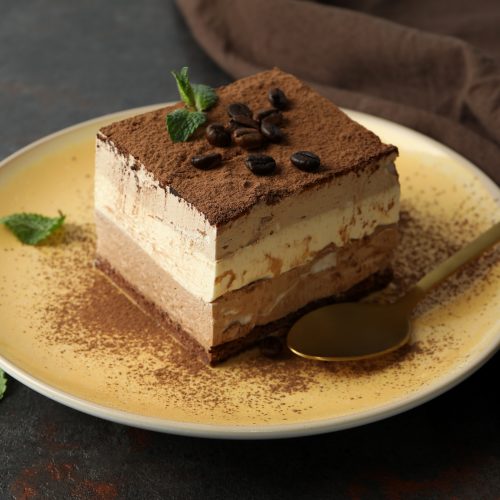 Classic Tiramisu Recipe: A Taste of Italy
Tiramisu, the beloved Italian dessert, is a true masterpiece of flavors and textures.
Ingredients
For the Coffee Soaking Mixture
1 1/2

cup

brewed espresso or strong coffee, cooled to room temperature

2

tbsp

coffee liqueur (optional)

2

tbsp

granulated sugar
For the Mascarpone Filling
1 1/2

cup

mascarpone cheese, softened

4

large egg yolks

2/3

cup

granulated sugar

1

tsp

pure vanilla extract
For Assembling
1

package (about 7 ounces) ladyfingers (savoiardi)

Unsweetened cocoa powder, for dusting

Semi-sweet chocolate shavings or cocoa powder for garnish
Instructions
1. Prepare the Coffee Mixture:

Brew the espresso or strong coffee and allow it to cool to room temperature. Stir in the coffee liqueur (if using) and 2 tablespoons of sugar until dissolved. Set aside.

2. Make the Mascarpone Filling:

In a large mixing bowl, whisk together the egg yolks and 2/3 cup of sugar until the mixture becomes pale and slightly thick.Add the mascarpone cheese and vanilla extract to the egg mixture. Beat until smooth and well combined. Set aside.

3. Assemble the Tiramisu:

Quickly dip each ladyfinger into the coffee mixture, making sure not to soak them for too long, as they should be moist but not soggy.Arrange a layer of dipped ladyfingers at the bottom of a serving dish (a rectangular dish or individual glasses work well).Spread half of the mascarpone filling over the ladyfingers.Add another layer of dipped ladyfingers on top of the filling.Finish with the remaining mascarpone filling, spreading it evenly.

4. Chill and Garnish:

Cover the Tiramisu with plastic wrap and refrigerate for at least 4 hours, preferably overnight, to allow the flavors to meld.Before serving, dust the top of the Tiramisu with unsweetened cocoa powder and garnish with semi-sweet chocolate shavings or more cocoa powder.
Nutrition
Serving:
8
g
Calories:
400
kcal
Carbohydrates:
28
g
Protein:
6
g
Fat:
30
g
Saturated Fat:
17
g
Cholesterol:
205
mg
Sodium:
35
mg
Sugar:
18
g
Indulge in the divine taste of Italy with this classic Tiramisu recipe. The combination of coffee-soaked ladyfingers and the luscious mascarpone filling is sure to delight your senses. Whether for a special occasion or a simple treat, Tiramisu is a dessert that always impresses. Buon appetito!