Start your day with a burst of energy and a dose of nutrition by indulging in this creamy Egg and Avocado Smoothie. Packed with protein, healthy fats, and essential vitamins, this smoothie is the perfect choice for a quick breakfast or post-workout snack. The combination of avocado and eggs creates a rich and velvety texture that's both satisfying and delicious.
Tips To Make it Perfect:
Ripe Avocado: Use a ripe avocado for a creamier texture and enhanced flavor.
Customize Sweetness: Adjust the sweetness to your liking by adding more or less honey.
Dairy-Free Option: Substitute the Greek yogurt with a dairy-free alternative for a vegan version.
Nut Allergies: Use a different milk alternative if you have nut allergies.
Greens: Feel free to experiment with different greens like kale or Swiss chard.
How To Make Egg and Avocado Smoothie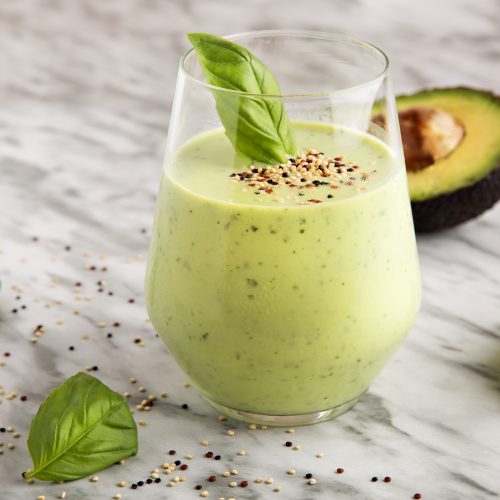 Creamy Egg and Avocado Smoothie
Start your day with a burst of energy and a dose of nutrition by indulging in this creamy Egg and Avocado Smoothie.
Ingredients
1

ripe avocado, pitted and peeled

2

large eggs

1

banana, peeled

1

cup

spinach leaves

1/2

cup

Greek yogurt

1

tbsp

honey (optional, for sweetness)

1

cup

almond milk (or milk of your choice)

1/2

tsp

vanilla extract

A handful of ice cubes
Instructions
Prep Your Ingredients: Make sure the avocado is ripe, pitted, and peeled. Peel the banana and gather the spinach leaves.

Combine in Blender: Add the ripe avocado, two large eggs, peeled banana, spinach leaves, Greek yogurt, honey (if desired), almond milk, vanilla extract, and a handful of ice cubes to your blender.

Blend Until Smooth: Secure the lid on your blender and blend all the ingredients until you achieve a smooth, creamy consistency. This may take a minute or two.

Taste and Adjust: After blending, taste the smoothie. If you prefer it sweeter, add more honey and blend again briefly.

Pour and Serve: Pour your creamy Egg and Avocado Smoothie into a glass.

Garnish (Optional): Consider garnishing with a slice of avocado, a sprinkle of chia seeds, or a drizzle of honey for an extra touch.

Enjoy: Sip and savor the creamy, nutrient-packed goodness of your smoothie.
Nutrition
Serving:
1
g
Calories:
400
kcal
Protein:
1535
g
Fat:
25
g
Sugar:
20
g
This Egg and Avocado Smoothie is not only a great way to start your day but also an excellent source of essential nutrients. Give it a try and enjoy a creamy and nutritious breakfast or snack!