Egg salad is a timeless classic that's perfect for a light lunch or a picnic spread. This delicious version with dill and capers adds a unique twist to the traditional recipe, giving it a burst of flavor that will leave you craving more. The combination of fresh dill and tangy capers adds depth and complexity to the creamy egg salad. Read on for the full recipe, including detailed nutrition information, prep and cooking time, and tips to make this egg salad even more scrumptious.
Tips to Make the Perfect Egg Salad with Dill and Capers:
For easier peeling, use older eggs rather than fresh ones. The shells of older eggs are more likely to come off smoothly.
To add even more flavor, consider adding diced red onion or celery to the egg salad.
For a lighter version, substitute half of the mayonnaise with Greek yogurt.
If you prefer a creamier egg salad, simply mash the eggs with a fork before adding the mayonnaise mixture.
Store the egg salad in an airtight container in the refrigerator for up to 3 days.
How To Make Egg Salad with Dill and Capers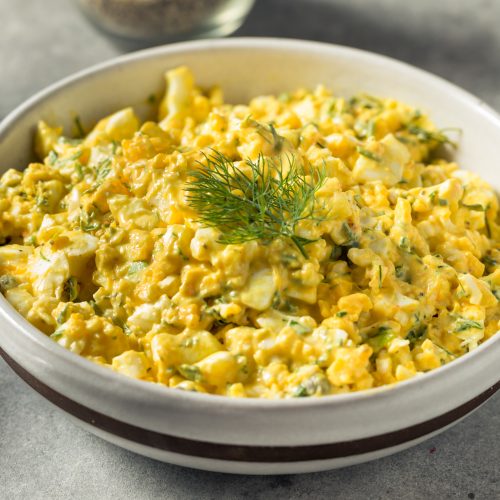 Delicious Egg Salad with Dill and Capers – A Tasty Twist on a Classic
Egg salad is a timeless classic that's perfect for a light lunch or a picnic spread.
Ingredients
8

large eggs

1/3

cup

mayonnaise

1

tbsp

Dijon mustard

1/4

cup

chopped fresh dill

3

tbsp

capers, drained and rinsed

Salt and pepper, to taste

Optional: lettuce leaves or bread for serving
Instructions
Place the eggs in a medium-sized saucepan and cover them with cold water. Bring the water to a boil over high heat. Once boiling, reduce the heat to low and simmer the eggs for 10 minutes.

Drain the hot water and run cold water over the eggs to stop the cooking process. Allow the eggs to cool completely.

Peel the eggs and roughly chop them. Place the chopped eggs in a large bowl.

In a separate bowl, mix together the mayonnaise, Dijon mustard, chopped dill, and capers. Season the mixture with salt and pepper to taste.

Add the mayonnaise mixture to the chopped eggs and gently mix until well combined.

Serve the egg salad on a bed of lettuce leaves or as a sandwich with your choice of bread. Enjoy!
Nutrition
Serving:
4
g
Calories:
310
kcal
Carbohydrates:
3
g
Protein:
15
g
Fat:
26
g
Saturated Fat:
5
g
Cholesterol:
380
mg
Sodium:
480
mg
Sugar:
1
g
This Egg Salad with Dill and Capers is a delightful twist on a classic recipe that's perfect for any occasion. With its fresh, tangy flavors and creamy texture, it's sure to become a new favorite in your recipe collection. Give it a try and enjoy the deliciousness of this elevated egg salad.