Expand your culinary horizons and take a journey to the vibrant flavors of Turkey with this delicious Menemen recipe. This traditional Turkish dish is a scrumptious combination of eggs, tomatoes, peppers, and onions, perfect for a delightful breakfast or brunch experience. Follow our step-by-step guide, including prep and cooking times, detailed nutrition information, and helpful tips to make your Menemen a surefire success.
Tips for Making the Perfect Turkish Menemen:
Choose ripe tomatoes: Select ripe, flavorful tomatoes to ensure a rich and delicious base for your Menemen. Fresh, seasonal tomatoes will yield the best results.
Adjust the heat: Traditional Menemen is mildly spicy, but you can easily adjust the level of heat to your preference. Add red pepper flakes or use a spicier pepper variety, like jalapeño or serrano, to increase the heat. Alternatively, use a milder pepper or reduce the amount of paprika for a less spicy version.
Stir gently: When adding the eggs to the pan, stir them gently and slowly into the tomato and pepper mixture. This will create a creamy, tender texture, rather than firm, fully-cooked scrambled eggs.
Make it your own: Customize your Menemen by adding different ingredients, such as sautéed mushrooms, spinach, or diced zucchini. You can also top your Menemen with crumbled feta cheese or serve it with crusty bread or warm pita for a heartier meal.
Serve immediately: Menemen is best enjoyed fresh and hot off the stove. Serve it immediately to ensure the eggs retain their creamy texture and delicate flavors.
How To Make Turkish Menemen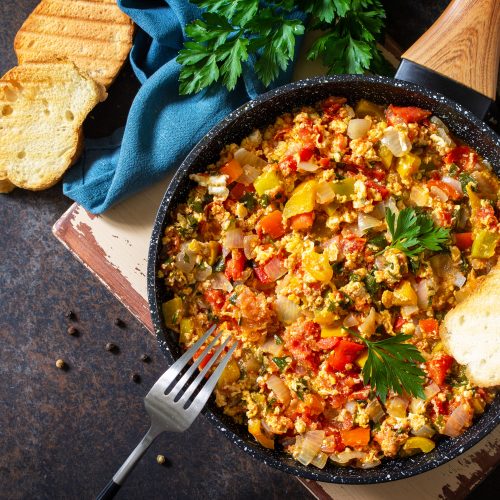 Discover the Delights of Turkish Menemen: A Flavorful Egg Dish
Expand your culinary horizons and take a journey to the vibrant flavors of Turkey with this delicious Menemen recipe.
Ingredients
4

large eggs

2

tbsp

olive oil

1

medium onion, finely chopped

1

green bell pepper, finely chopped

2

cloves garlic, minced

4

medium tomatoes, diced

1

tsp

paprika

1

tsp

cumin

Salt and black pepper, to taste

1/4

cup

chopped fresh parsley, for garnish

Optional: crumbled feta cheese, for serving
Nutrition
Serving:
1
g
Calories:
350
kcal
Carbohydrates:
14
g
Protein:
19
g
Fat:
24
g
Saturated Fat:
6
g
Cholesterol:
400
mg
Sodium:
260
mg
Fiber:
3
g
Introduce your taste buds to the exotic flavors of Turkey with this easy and delicious Menemen recipe. Packed with wholesome ingredients, it's a nutritious and satisfying meal that's perfect for any time of the day. With our helpful tips, you'll be well on your way to mastering this mouthwatering dish and impressing your family and friends with your culinary prowess.