Are you looking for a tasty and nutritious lunch option that's simple to make? Look no further than this Egg Salad Wrap recipe! Packed with protein and flavor, this wrap is perfect for busy weekdays or a light weekend lunch. Made with creamy egg salad, fresh vegetables, and wrapped in a soft tortilla, it's a satisfying and wholesome meal. Let's dive into the recipe and learn how to make it!
Tips to Make it Perfect:
To make peeling hard-boiled eggs easier, add a teaspoon of vinegar to the boiling water before cooking the eggs.
Customize the flavors of the egg salad by adding ingredients like chopped pickles, diced celery, or a squeeze of lemon juice.
If you prefer a spicier kick, sprinkle some chili powder or hot sauce over the egg salad mixture.
Don't overstuff the wraps to ensure easy rolling and eating.
If you're planning to pack the wraps for lunch, wrap them tightly in foil or plastic wrap to keep them fresh.
How To Make Egg Salad Wrap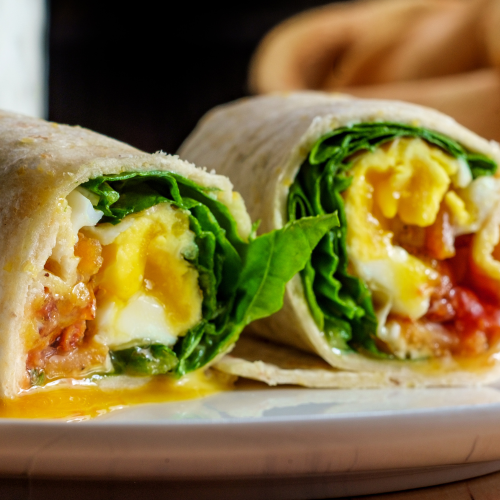 Easy and Delicious Egg Salad Wrap: A Healthy and Quick Lunch Option
Are you looking for a tasty and nutritious lunch option that's simple to make?
Ingredients
4

hard-boiled eggs, peeled and chopped

1/4

cup

mayonnaise

1

tbsp

Dijon mustard

2

tbsp

finely chopped red onion

2

tbsp

chopped fresh parsley

Salt and pepper to taste

4

large whole wheat tortillas

2

cup

mixed greens

1/2

cup

sliced cucumbers

1/2

cup

sliced bell peppers

1/4

cup

shredded carrots
Instructions
In a medium bowl, combine the chopped hard-boiled eggs, mayonnaise, Dijon mustard, red onion, and chopped parsley. Mix well until the ingredients are evenly incorporated.

Season the egg salad mixture with salt and pepper to taste. Adjust the seasoning according to your preference.

Lay out the whole wheat tortillas on a clean surface. Divide the mixed greens evenly among the tortillas, spreading them in a line across the center of each tortilla.

Spoon the egg salad mixture over the mixed greens, dividing it equally among the tortillas.

Top the egg salad with sliced cucumbers, bell peppers, and shredded carrots. You can also add additional toppings like avocado or sprouts if desired.

To wrap the tortillas, fold in the sides of each tortilla, then roll it up tightly from one end to the other, securing the wrap with a toothpick if needed.

Heat a non-stick skillet over medium heat. Place the wrapped tortillas in the skillet, seam side down, and cook for 2-3 minutes on each side, or until the tortillas are lightly toasted and crispy.

Remove the wraps from the skillet and let them cool for a few minutes. Slice each wrap in half diagonally, if desired, for easier serving.

Serve the Egg Salad Wraps immediately or refrigerate them for later use. They can be enjoyed as a complete meal or paired with a side of fresh fruit or a small salad.
Nutrition
Calories:
280
kcal
Carbohydrates:
26
g
Protein:
13
g
Fat:
14
g
Saturated Fat:
3
g
Cholesterol:
197
mg
Sodium:
597
mg
Fiber:
6
g
Sugar:
3
g
This Egg Salad Wrap recipe is a versatile and satisfying option for a quick and nutritious lunch. With the creamy egg salad, crisp vegetables, and whole wheat tortilla, it's a well-rounded meal that will keep you energized throughout the day. Whether you're preparing it for yourself or the entire family, this recipe is a winner. Give it a try and enjoy the deliciousness of this simple yet flavorful wrap!