Spice up your mornings with our delicious Egg and Cheese Breakfast Burritos! Packed with protein, veggies, and gooey cheese, these burritos are the perfect grab-and-go breakfast option. They're easy to make, customizable, and will keep you energized throughout the day. Read on to discover the ingredients, instructions, and tips for creating these scrumptious breakfast burritos.
Tips for Perfect Egg and Cheese Breakfast Burritos:
Customize your burritos by adding additional fillings such as cooked bacon, sausage, or sautéed mushrooms.
If you prefer a spicier kick, sprinkle in some chili powder, cayenne pepper, or hot sauce to the egg mixture.
Don't overstuff the tortillas, as this can make them difficult to roll and may cause them to tear.
To make the burritos ahead of time, wrap them tightly in aluminum foil or plastic wrap, and store them in the refrigerator. Reheat in a microwave or oven when ready to enjoy.
Use whole-grain tortillas for added fiber and nutrients.
If you're watching your sodium intake, opt for low-sodium cheese and adjust the seasoning accordingly.
These burritos can also be frozen for later consumption. Wrap them individually in plastic wrap and store in a freezer bag. Thaw overnight in the refrigerator and reheat when ready to eat.
How To Make Egg and Cheese Breakfast Burritos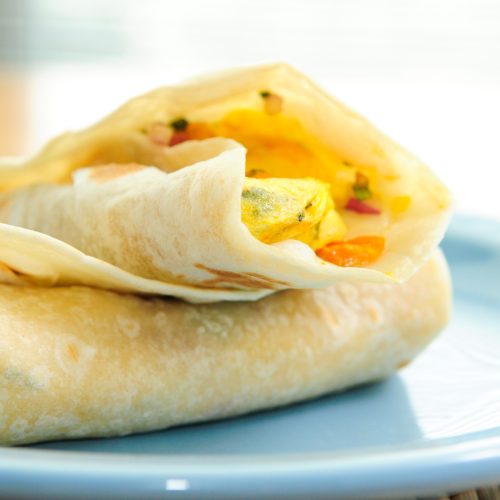 Egg and Cheese Breakfast Burritos: A Flavorful and Filling Morning Delight
Spice up your mornings with our delicious Egg and Cheese Breakfast Burritos!
Ingredients
4

large flour tortillas

6

large eggs

1/4

cup

milk

1/2

cup

shredded cheddar cheese (or any cheese of your choice)

1/2

cup

diced bell peppers (any color)

1/2

cup

diced onion

1/4

cup

diced tomatoes

2

tbsp

chopped fresh cilantro

Salt and pepper, to taste

Optional toppings: Salsa, avocado slices, sour cream
Nutrition
Calories:
320
kcal
Carbohydrates:
28
g
Protein:
18
g
Fat:
15
g
Sodium:
420
mg
Fiber:
2
g
Egg and Cheese Breakfast Burritos. With a combination of fluffy scrambled eggs, melted cheese, and vibrant vegetables, these burritos are a delightful way to kickstart your mornings.
These portable breakfast burritos are not only delicious but also incredibly versatile. Feel free to experiment with different fillings and toppings to suit your taste preferences. Whether you enjoy them fresh or make a batch ahead for meal prep, these burritos are sure to satisfy your cravings.
So, grab your tortillas and get ready to create a flavorful morning treat with our Egg and Cheese Breakfast Burritos recipe. Your taste buds will thank you!
Enjoy the burst of flavors and energy that these Egg and Cheese Breakfast Burritos bring to your mornings. They are a fantastic option for a quick and nutritious breakfast on the go. Get creative with your fillings and toppings to make them your own. Whether you're enjoying them fresh or preparing a batch for meal prepping, these burritos are bound to become a breakfast favorite!