Elevate your breakfast game with our Egg and Cheese Quesadillas. These delightful treats are not only quick and easy to make but also bursting with flavor. With fluffy scrambled eggs, melted cheddar cheese, and optional toppings of your choice, this breakfast will become a favorite in no time.
Tips for Perfect Egg and Cheese Quesadillas:
Customize with your favorite ingredients like sautéed onions, diced tomatoes, or cooked sausage.
Use a non-stick skillet to prevent sticking and tearing of the tortillas.
Cook over medium heat to achieve a crispy exterior while ensuring the cheese melts inside.
Feel free to garnish with fresh cilantro, avocado slices, or a drizzle of hot sauce for extra flavor.
Serve immediately for the best taste and texture.
How To Make Egg and Cheese Quesadilla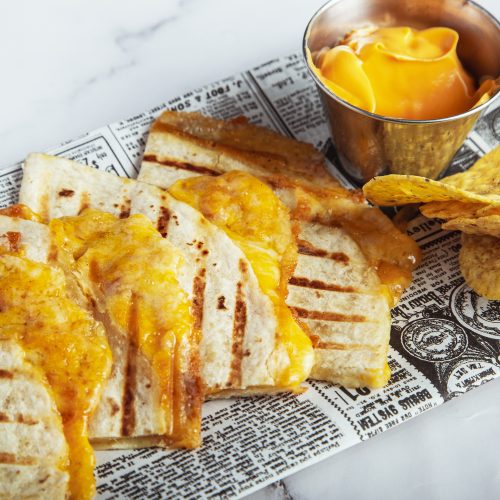 Egg and Cheese Quesadilla: A Quick and Flavorful Breakfast
Elevate your breakfast game with our Egg and Cheese Quesadillas.
Ingredients
4

large eggs

Salt and pepper, to taste

1

tbsp

butter or cooking oil

4

small flour tortillas

1

cup

shredded cheddar cheese

Optional toppings: diced bell peppers, onions, tomatoes, cooked bacon, salsa, or sour cream
Instructions
Prep the Eggs: Crack the eggs into a bowl, season with a pinch of salt and pepper, and beat them until well combined.

Scramble the Eggs: In a non-stick skillet, melt the butter (or heat the cooking oil) over medium heat. Pour the beaten eggs into the skillet and cook, stirring occasionally, until they are scrambled and just set. Remove from heat.

Prepare the Tortillas: Lay out the flour tortillas on a clean surface or plate.

Add Cheese: Sprinkle a portion of shredded cheddar cheese evenly on one half of each tortilla, leaving a small border around the edges.

Layer with Eggs: Spoon the scrambled eggs on top of the cheese.

Customize with Toppings: If desired, add your choice of optional toppings, such as diced bell peppers, onions, tomatoes, or cooked bacon.

Fold and Cook: Fold the other half of each tortilla over the filling, creating a half-moon shape.

Heat and Brown: Heat a clean skillet or griddle over medium heat. Place the quesadillas on the skillet and cook for about 2-3 minutes on each side, or until they are golden brown and the cheese has melted.

Slice and Serve: Remove from heat and let them cool for a minute before slicing them into wedges.

Serve: Serve your Egg and Cheese Quesadillas with optional sides like salsa or sour cream.
Nutrition
Serving:
2
g
Calories:
300
kcal
Carbohydrates:
16
g
Protein:
15
g
Fat:
21
g
Saturated Fat:
10
g
Cholesterol:
215
mg
Sodium:
480
mg
Fiber:
1
g
Sugar:
1
g
Start your day with a satisfying breakfast by indulging in these Egg and Cheese Quesadillas. They're not only quick and easy to prepare but also endlessly customizable to suit your taste. Whether enjoyed on their own or with your favorite toppings, these quesadillas are sure to become a breakfast favorite in your home. Enjoy!