Egg and Cheese Taquitos are the perfect quick and delicious breakfast option for busy mornings. These crispy, cheesy, and flavorful taquitos are filled with scrambled eggs and melted cheese, making them an irresistible choice for both kids and adults. In this blog post, we will share the detailed nutrition information, prep and cooking time, and some tips for making the best Egg and Cheese Taquitos. So, let's dive into this scrumptious breakfast delight!
Tips for Making Perfect Egg and Cheese Taquitos:
Use fresh, high-quality ingredients: Fresh eggs and good-quality cheese will make a huge difference in the taste and texture of your taquitos.
Cook the eggs gently: Scramble the eggs over low to medium heat to ensure they remain soft and creamy. Overcooked eggs can result in a rubbery texture.
Customize your fillings: Feel free to add other ingredients like sautéed onions, bell peppers, cooked bacon, or even some spicy jalapeños to make the taquitos even more flavorful.
Use a non-stick skillet or griddle: This will make it easier to cook the tortillas without sticking and ensure a crispy exterior.
Keep an eye on the taquitos while cooking: Make sure to watch them closely as they cook to prevent them from burning or becoming too crispy.
Keep the taquitos warm: If you're making a large batch, keep the cooked taquitos in a warm oven until you're ready to serve them.
Serve with your favorite dipping sauce: Salsa, sour cream, or guacamole make excellent dipping options for your Egg and Cheese Taquitos.
How To Make Egg and Cheese Taquitos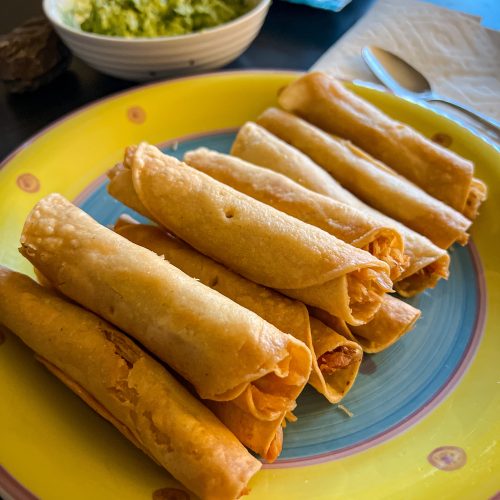 Egg and Cheese Taquitos – A Quick and Tasty Breakfast Option
Egg and Cheese Taquitos are the perfect quick and delicious breakfast option for busy mornings.
Ingredients
6

large eggs

Salt and pepper, to taste

2

tbsp

butter

1

cup

shredded cheddar cheese

8

small flour tortillas

Optional: additional fillings like sautéed onions, bell peppers, cooked bacon, or jalapeños

Cooking spray or oil, for pan-frying
Instructions
In a medium bowl, crack the eggs and season them with salt and pepper. Whisk until well combined.

Heat a non-stick skillet over medium heat and add 1 tablespoon of butter. Once the butter is melted, pour in the whisked eggs and cook, stirring occasionally, until they are softly scrambled. Remove from heat and set aside.

Lay the flour tortillas on a clean work surface. Spoon a portion of the scrambled eggs onto the center of each tortilla. Top with an equal amount of shredded cheddar cheese and any optional fillings you prefer.

Carefully fold the tortillas in half, pressing gently to seal in the filling.

In the same non-stick skillet, heat the remaining tablespoon of butter or a small amount of oil over medium heat. Place 2 to 3 filled tortillas in the skillet, making sure not to overcrowd the pan.

Cook the taquitos for 2-3 minutes on each side, or until the tortillas are golden brown and crispy, and the cheese has melted. Use a spatula to carefully flip the taquitos halfway through cooking.

Remove the cooked taquitos from the skillet and place them on a paper towel-lined plate to drain any excess grease. Repeat the process with the remaining tortillas, adding more butter or oil to the skillet as needed.

Serve the Egg and Cheese Taquitos warm with your favorite dipping sauces, such as salsa, sour cream, or guacamole. Enjoy!
Nutrition
Serving:
4
g
Calories:
290
kcal
Carbohydrates:
25
g
Protein:
12
g
Fat:
15
g
Saturated Fat:
5
g
Cholesterol:
190
mg
Sodium:
680
mg
Fiber:
1
g
Sugar:
2
g
Egg and Cheese Taquitos are a versatile, delicious, and easy-to-make breakfast option that will surely become a family favorite. With a few simple tips and a little creativity, you can whip up a batch of these tasty taquitos in no time. So go ahead, give this recipe a try, and enjoy a delicious and satisfying breakfast!