Start your day right with this hearty and flavorful Egg and Ham Breakfast Burrito. Packed with protein and savory ingredients, this breakfast burrito will keep you satisfied and energized until lunchtime. Whether you're rushing out the door or enjoying a leisurely morning, this recipe is a delicious way to kickstart your day.
Tips:
Add Veggies: Feel free to customize your breakfast burrito with your favorite veggies like diced tomatoes, spinach, or mushrooms.
Make it Spicy: If you like some heat, add a dash of hot sauce or a sprinkle of crushed red pepper flakes to your eggs.
Breakfast On-the-Go: Wrap your burrito in foil or parchment paper for a portable breakfast option.
How To Make Egg and Ham Breakfast Burrito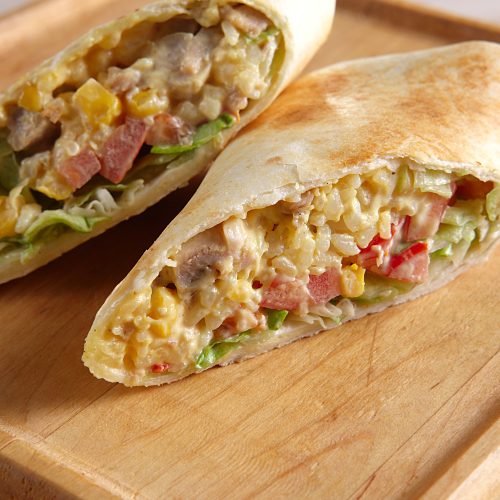 Egg and Ham Breakfast Burrito
Start your day right with this hearty and flavorful Egg and Ham Breakfast Burrito.
Ingredients
4

large eggs

1/2

cup

diced cooked ham

1/4

cup

diced bell peppers (any color)

1/4

cup

diced onions

1/4

cup

shredded cheddar cheese

2

large flour tortillas

2

tbsp

olive oil

Salt and black pepper, to taste

Salsa or hot sauce (optional, for serving)
Instructions
Scramble the Eggs:

In a bowl, beat the eggs and season with a pinch of salt and black pepper. Heat one tablespoon of olive oil in a skillet over medium heat. Add the diced ham, bell peppers, and onions to the skillet. Sauté for about 2-3 minutes until the vegetables are tender and the ham is lightly browned. Pour the beaten eggs into the skillet with the ham and veggies. Cook, stirring gently, until the eggs are scrambled and cooked to your desired level of doneness. Remove from heat.
Warm the Tortillas: Heat the flour tortillas in a dry skillet or microwave for about 10-15 seconds to make them pliable.
Assemble the Burritos:

Lay out each tortilla on a clean surface. Spoon half of the scrambled egg mixture onto each tortilla. Sprinkle shredded cheddar cheese evenly over the eggs.

Roll the Burritos:

Fold in the sides of the tortilla, then roll it up tightly from the bottom to enclose the filling, creating a burrito shape.

Serve and Enjoy:

Serve your Egg and Ham Breakfast Burritos immediately, with salsa or hot sauce on the side if you like a little extra kick.
Nutrition
Serving:
1
g
Calories:
340
kcal
Carbohydrates:
18
g
Protein:
17
g
Fat:
23
g
Saturated Fat:
6
g
Cholesterol:
236
mg
Sodium:
632
mg
Potassium:
245
mg
Fiber:
1
g
Sugar:
1
g
This Egg and Ham Breakfast Burrito is a versatile and satisfying way to start your day. It's easy to make, delicious, and can be customized to suit your taste. Enjoy!