Indulge in a delightful breakfast or brunch with these savory Egg and Mushroom Crepes. These delicate, thin pancakes are filled with a savory mixture of scrambled eggs, sautéed mushrooms, and herbs. Perfectly satisfying and elegant, they're a brunch favorite that will impress your guests and awaken your taste buds.
Tips:
Be patient when making crepes; the first one may not turn out perfectly, but the rest will.
Customize the filling with your favorite herbs, cheeses, or even some sautéed spinach for added flavor.
To keep crepes warm while making a batch, cover them with a clean kitchen towel or foil.
If you don't have a blender for the batter, simply whisk the ingredients together in a bowl until smooth.
How To Make Egg and Mushroom Crepes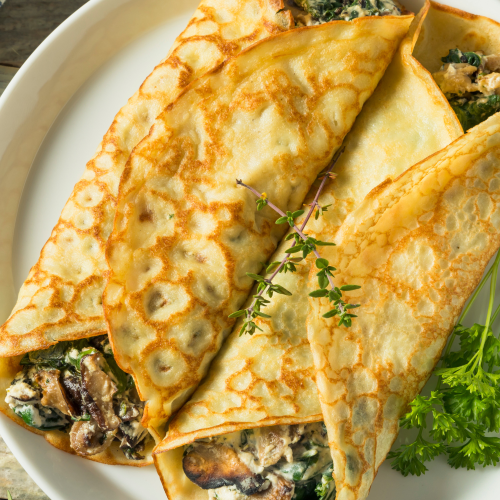 Egg and Mushroom Crepes
Indulge in a delightful breakfast or brunch with these savory Egg and Mushroom Crepes.
Ingredients
For the Crepes:
1

cup

all-purpose flour

2

large eggs

1 1/2

cup

milk

2

tbsp

unsalted butter, melted

A pinch of salt

Cooking spray or extra butter for the pan
For the Filling:
1

cup

sliced mushrooms (white or cremini)

1

small onion, finely chopped

2

cloves garlic, minced

4

large eggs

2

tbsp

fresh parsley, chopped

2

tbsp

grated Parmesan cheese

2

tbsp

olive oil for cooking

Salt and black pepper to taste
Instructions
Prepare the Crepe Batter:

In a blender, combine the flour, eggs, milk, melted butter, and a pinch of salt. Blend until the batter is smooth. Allow the batter to rest for about 15 minutes.

Cook the Crepes:

Heat a non-stick skillet or crepe pan over medium heat. Lightly grease the pan with cooking spray or a small amount of butter.Pour a small ladleful of the crepe batter into the hot pan, swirling it to coat the bottom evenly. Cook for about 1-2 minutes until the edges start to lift and the crepe is lightly browned underneath.Carefully flip the crepe and cook for an additional 1-2 minutes on the other side. Repeat until all the batter is used, stacking the cooked crepes on a plate.

Prepare the Filling:

In a separate skillet, heat the olive oil over medium-high heat. Add the chopped onions and cook until translucent, about 2-3 minutes.Add the sliced mushrooms and minced garlic. Sauté until the mushrooms are tender and slightly browned, about 5-7 minutes. Season with salt and black pepper.In a bowl, whisk the eggs, then pour them into the mushroom mixture. Stir gently to scramble the eggs until just set.Remove from heat and stir in the chopped parsley and grated Parmesan cheese.

Assemble the Crepes:

Lay out a crepe, add a portion of the egg and mushroom filling in the center, and fold the sides over to create a square or rectangular shape. Repeat with the remaining crepes and filling.

Serve:

Garnish your Egg and Mushroom Crepes with extra parsley or grated Parmesan cheese if desired. Serve warm and enjoy!
Nutrition
Serving:
1
g
Calories:
320
kcal
Carbohydrates:
26
g
Protein:
13
g
Fat:
18
g
Saturated Fat:
6
g
Cholesterol:
235
mg
Sodium:
390
mg
Potassium:
350
mg
Fiber:
2
g
Sugar:
5
g
These Egg and Mushroom Crepes are a culinary delight that combines the delicate texture of crepes with the savory goodness of mushrooms and eggs. They're perfect for a leisurely brunch or a special breakfast treat. Enjoy!