Elevate your breakfast game with this Egg and Spinach Breakfast Pizza. It's a delightful and wholesome morning meal that combines the flavors of a classic breakfast with the satisfying crunch of pizza. Whether you're serving it for brunch or breakfast, this pizza is a surefire way to start your day with a smile.
Tips:
Pizza Dough Variations: Experiment with whole wheat or cauliflower pizza dough for a healthier twist.
Toppings: Feel free to add your favorite breakfast toppings like diced cooked bacon, diced tomatoes, or mushrooms.
Baking: Keep a close eye on the pizza while it's in the oven to ensure the yolks are cooked to your desired consistency.
How To Make Egg and Spinach Breakfast Pizza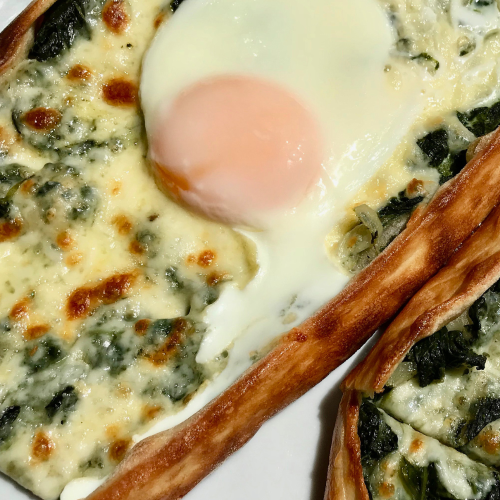 Egg and Spinach Breakfast Pizza
Elevate your breakfast game with this Egg and Spinach Breakfast Pizza.
Ingredients
1

pizza dough (store-bought or homemade)

4

large egg

1

cup

fresh baby spinach, chopped

1/2

cup

shredded mozzarella cheese

1/4

cup

grated Parmesan cheese

1/4

cup

pizza sauce or marinara sauce

1

tbsp

olive oil

1/2

tsp

garlic powder

Salt and black pepper, to taste

Red pepper flakes (optional, for a bit of heat)

Fresh basil leaves for garnish (optional)
Instructions
Preheat the Oven:

Preheat your oven to 450°F (232°C). If you have a pizza stone, place it in the oven during preheating.

Roll Out the Dough:

Roll out your pizza dough on a lightly floured surface to your desired thickness. If you're using a pizza stone, transfer the rolled-out dough to a piece of parchment paper that fits your stone.

Prepare the Pizza:

Spread pizza sauce evenly over the dough, leaving a small border around the edges for the crust. Sprinkle half of the shredded mozzarella cheese over the sauce. Distribute the chopped spinach evenly over the cheese. Carefully crack the eggs onto the pizza. You can crack them directly onto the pizza or into a bowl and then slide them onto the pizza. Sprinkle with the grated Parmesan cheese, garlic powder, salt, black pepper, and red pepper flakes if desired.

Bake the Pizza:

If you're using a pizza stone, carefully slide the parchment paper with the pizza onto the hot stone in the oven.Bake for about 10-12 minutes or until the crust is golden, and the egg whites are set, but the yolks are still slightly runny.

Finish and Serve:

Drizzle the olive oil over the pizza and sprinkle with the remaining mozzarella cheese.Garnish with fresh basil leaves if desired.Slice your Egg and Spinach Breakfast Pizza into wedges and serve immediately.
Nutrition
Serving:
1
g
Calories:
335
kcal
Carbohydrates:
32
g
Protein:
15
g
Fat:
16
g
Saturated Fat:
6
g
Cholesterol:
193
mg
Sodium:
595
mg
Potassium:
178
mg
Fiber:
2
g
Sugar:
1
g
This Egg and Spinach Breakfast Pizza is a creative and tasty way to enjoy breakfast any day of the week. It's a perfect balance of flavors and textures that will leave you craving more. Enjoy!