Kickstart your day with a healthy and satisfying Egg and Spinach Sandwich. This delightful creation combines the protein-packed goodness of eggs with the vibrant freshness of spinach, all sandwiched between slices of your favorite bread. Loaded with nutrients and flavor, it's a breakfast that will keep you energized and ready to conquer the day.
Tips for a Perfect Sandwich:
Feel free to add avocado slices for extra creaminess and healthy fats.
Use fresh, organic spinach for the best flavor and nutrition.
Adjust the level of seasoning to your taste preferences.
This sandwich pairs wonderfully with a side of fresh fruit or a smoothie.
How To Make Egg and Spinach Sandwich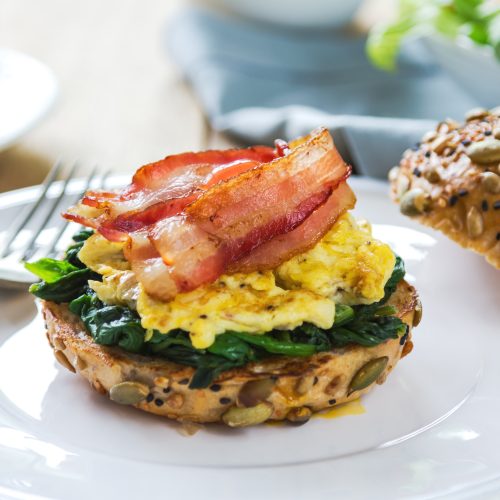 Egg and Spinach Sandwich – A Healthy Morning Boost
Kickstart your day with a healthy and satisfying Egg and Spinach Sandwich.
Ingredients
4

large eggs

2

cup

fresh spinach leaves

4

slices of whole-grain bread (or your preferred bread)

1

tbsp

olive oil

1

garlic clove, minced

Salt and pepper, to taste

Optional toppings: a sprinkle of feta cheese, a drizzle of hot sauce, or avocado slices
Instructions
Sauté the Spinach:

Heat olive oil in a skillet over medium heat. Add minced garlic and sauté for about 30 seconds until fragrant.Add fresh spinach leaves and cook, tossing gently, until wilted. Season with a pinch of salt and pepper. Remove from heat and set aside.

Scramble the Eggs:

Crack the eggs into a bowl, whisk them together, and season with salt and pepper.Heat a non-stick skillet over medium-low heat and melt a bit of butter or use cooking spray.Pour the beaten eggs into the skillet and gently stir them until they're softly scrambled and just set. Remove from heat.

Prepare the Bread:

Toast the slices of bread to your desired level of crispiness.

Assemble the Sandwiches:

Lay out two slices of toasted bread. Divide the scrambled eggs evenly between the two slices. Top each with the sautéed spinach. Optionally, add crumbled feta cheese for extra creaminess or a drizzle of hot sauce for some heat. Place the remaining two slices of toasted bread on top to create two sandwiches.

Serve and Enjoy:

Slice the sandwiches in half if desired and serve immediately.
Nutrition
Serving:
1
g
Calories:
310
kcal
Carbohydrates:
27
g
Protein:
19
g
Fat:
15
g
Saturated Fat:
4
g
Cholesterol:
370
mg
Sodium:
540
mg
Fiber:
5
g
Sugar:
3
g
Start your morning on a nutritious note with this Egg and Spinach Sandwich that combines wholesome ingredients and delightful flavors. It's the perfect way to fuel your day!