Elevate your breakfast game with this delicious and nutritious Egg and Tomato Breakfast Flatbread. This recipe combines the freshness of ripe tomatoes, the creaminess of avocado, the richness of eggs, and the satisfying crunch of flatbread. It's a delightful morning meal that's quick to make and bursting with flavors. Whether you're preparing it for a busy weekday breakfast or a leisurely weekend brunch, this flatbread is sure to become a breakfast favorite.
Tips:
Add a Kick: Drizzle a bit of hot sauce or sprinkle red pepper flakes for some extra flavor and heat.
Customizable Toppings: Feel free to personalize your flatbreads with additional ingredients like sliced olives, red onions, or a sprinkle of Parmesan cheese.
Fresh Herbs: Experiment with herbs like cilantro or parsley for a different flavor profile.
How To Make Egg and Tomato Breakfast Flatbread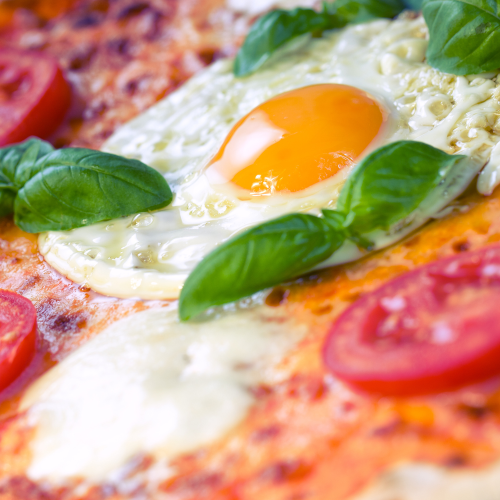 Egg and Tomato Breakfast Flatbread
Elevate your breakfast game with this delicious and nutritious Egg and Tomato Breakfast Flatbread.
Ingredients
2

large flatbreads or naan breads

4

large eggs

1

ripe avocado, sliced

2

medium tomatoes, thinly sliced

1/2

cup

shredded mozzarella cheese

2

tbsp

olive oil

Salt and black pepper, to taste

Fresh basil leaves for garnish (optional)
Instructions
Preheat the Oven:

Preheat your oven to 375°F (190°C). Place the flatbreads on a baking sheet and set aside.

Prepare the Eggs:

In a non-stick skillet, heat one tablespoon of olive oil over medium heat.Crack the eggs into the skillet, ensuring that they don't touch each other.Season the eggs with a pinch of salt and black pepper. Cook until the whites are set, but the yolks are still runny, about 2-3 minutes. Remove the skillet from heat.

Assemble the Flatbreads:

Brush the remaining olive oil evenly over the flatbreads. Evenly distribute the sliced avocado and tomato slices on top of the flatbreads. Carefully slide the fried eggs onto the flatbreads. Sprinkle shredded mozzarella cheese over the flatbreads.

Bake in the Oven:

Place the baking sheet with the assembled flatbreads in the preheated oven. Bake for 5-7 minutes or until the cheese is melted, and the edges of the flatbreads are slightly crispy.

Garnish and Serve:

Remove the flatbreads from the oven and garnish with fresh basil leaves if desired. Slice each flatbread into wedges or squares. Serve hot and enjoy your Egg and Tomato Breakfast Flatbread!
Nutrition
Serving:
1
g
Calories:
375
kcal
Carbohydrates:
29
g
Protein:
12
g
Fat:
24
g
Saturated Fat:
6
g
Cholesterol:
192
mg
Sodium:
346
mg
Potassium:
536
mg
Fiber:
6
g
Sugar:
3
g
This Egg and Tomato Breakfast Flatbread is a delightful and balanced breakfast that's perfect for a busy morning or a leisurely brunch. With its combination of textures and flavors, it's sure to satisfy your morning cravings. Enjoy!