Quick, Healthy, and Delicious!
Stir-fries are a go-to option for a fast and flavorful meal, and this Egg and Veggie Stir-Fry is no exception. Packed with colorful vegetables and protein-rich eggs, it's a nutritious and satisfying dish that's ready in no time. Whether you're a busy weeknight warrior or simply looking to add more veggies to your diet, this recipe has got you covered.
Tips for the Perfect Stir-Fry:
Prep Your Ingredients: Have all your vegetables chopped and sauces ready before you start cooking. Stir-frying happens quickly, and you'll want everything at your fingertips.
High Heat: Use a hot pan or wok and work swiftly. The high heat helps cook the veggies quickly while maintaining their crunch.
Don't Overcrowd: Avoid overcrowding the pan; it can make your stir-fry steam rather than stir-fry. If needed, cook in batches.
Be Creative: Feel free to customize your stir-fry with your favorite vegetables or protein sources like tofu, shrimp, or chicken.
Sauces: Experiment with different sauces for flavor variations. Teriyaki, hoisin, or sriracha can add some extra zing.
Garnish: Fresh herbs, like cilantro or Thai basil, can add a burst of freshness to your dish.
How To Make Egg and Veggie Stir-Fry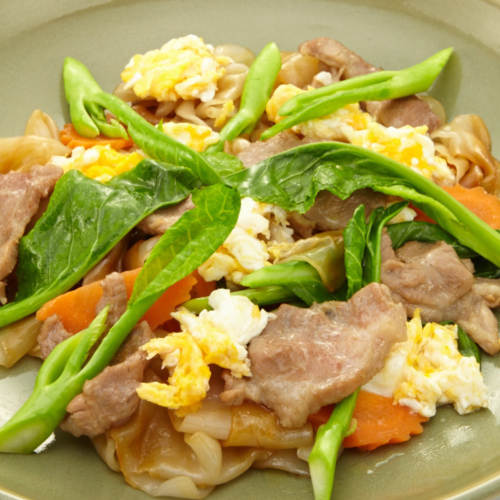 Egg and Veggie Stir-Fry
Stir-fries are a go-to option for a fast and flavorful meal, and this Egg and Veggie Stir-Fry is no exception.
Ingredients
4

large eggs

2

tbap

vegetable oil

1

red bell pepper, thinly sliced

1

yellow bell pepper, thinly sliced

1

cup

broccoli florets

1

cup

snap peas, ends trimmed

1

medium carrot, julienned

2

cloves garlic, minced

1

tsp

ginger, minced

2

tbsp

low-sodium soy sauce

1

tbsp

oyster sauce (optional)

Salt and pepper to taste

Sesame seeds and chopped green onions for garnish
Instructions
Prepare the Eggs:

In a bowl, crack the eggs, season with a pinch of salt and pepper, and beat them lightly. Set aside.

Stir-Fry Veggies:

Heat the vegetable oil in a large skillet or wok over medium-high heat. Add the minced garlic and ginger. Stir-fry for about 30 seconds until fragrant.

Add Vegetables:

Toss in the sliced red and yellow bell peppers, broccoli florets, snap peas, and julienned carrots. Stir-fry the vegetables for 3-5 minutes until they begin to soften but are still crisp.

Create a Well:

Push the veggies to one side of the pan, creating a well in the center.

Cook the Eggs:

Pour the beaten eggs into the well. Let them cook undisturbed for about 1-2 minutes until they start to set.

Scramble the Eggs:

Gently scramble the eggs with a spatula until they are fully cooked and slightly golden.

Combine and Season:

Mix the scrambled eggs with the stir-fried veggies. Add soy sauce and oyster sauce (if using) to the mixture. Toss everything together until well combined. Taste and adjust the seasoning with salt and pepper as needed.

Serve:

Transfer the Egg and Veggie Stir-Fry to a serving platter.Garnish with sesame seeds and chopped green onions for extra flavor and a pop of color.

Enjoy:

Serve your delicious stir-fry hot over steamed rice or noodles. Enjoy!
Nutrition
Serving:
1
g
Calories:
250
kcal
Carbohydrates:
15
g
Protein:
15
g
Fat:
15
g
Fiber:
4
g
Sugar:
6
g
There you have it, a simple and tasty Egg and Veggie Stir-Fry that's perfect for a quick weeknight dinner. Enjoy your culinary adventure!