Egg fried rice is a delicious and versatile dish that can be easily customized to suit your tastes and dietary preferences. This Asian-inspired meal is perfect for a quick weeknight dinner or a satisfying lunch, as it combines fluffy rice, tender scrambled eggs, and a variety of vegetables for a well-rounded and flavorful meal. In this post, we'll share some tips for making the perfect egg fried rice, a fantastic recipe for you to try, and the nutritional information, prep time, and cooking time for the dish.
Tips for Making Egg Fried Rice
Here are a few helpful tips to ensure your egg fried rice turns out perfectly every time:
Use cold, cooked rice: For the best texture, use cold, cooked rice that has been refrigerated for at least a few hours or overnight. This helps to prevent the rice from becoming mushy or clumping together during the frying process.
Cook the eggs separately: Scramble the eggs separately before adding them to the fried rice. This ensures they are cooked to your desired doneness and evenly distributed throughout the dish.
Customize your vegetables: Egg fried rice is a versatile dish that allows for endless variations. Feel free to mix and match your favorite vegetables, such as peas, carrots, bell peppers, or zucchini, to create your own unique version of the dish.
Season to taste: Adjust the seasonings to your taste preferences. You can add more soy sauce, oyster sauce, or even a touch of sesame oil for extra depth of flavor.
How To Make Egg Fried Rice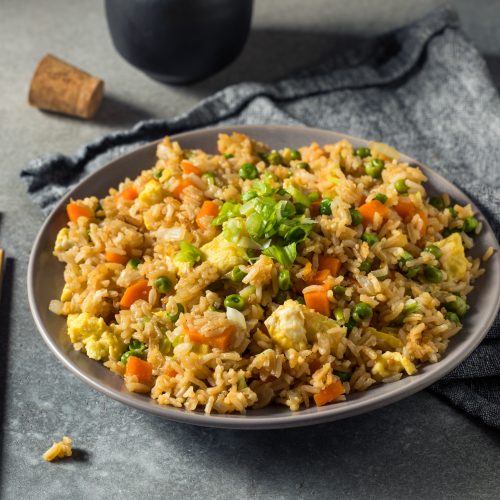 Egg Fried Rice: A Quick, Flavorful, and Versatile Asian-Inspired Dish
Egg fried rice is a flavorful and versatile dish that's perfect for those busy weeknights when you need a quick and satisfying meal.
Ingredients
3

cups

cooked and cooled jasmine or long-grain white rice

3

tbsp

vegetable oil, divided

4

large eggs, beaten

1/2

cup

diced onion

1/2

cup

diced carrots

1/2

cup

frozen peas, thawed

3

green onions, thinly sliced

3

tbsp

soy sauce

1

tsp

sesame oil

Salt and pepper, to taste
Instructions
In a large non-stick skillet or wok, heat 1 tablespoon of vegetable oil over medium-high heat. Add the beaten eggs and scramble until fully cooked. Transfer the eggs to a plate and set aside.

In the same skillet, add another tablespoon of vegetable oil. Add the diced onion and carrots, and cook until softened, about 5 minutes.

Stir in the peas and cook for an additional 2 minutes.

Add the remaining tablespoon of vegetable oil to the skillet, followed by the cooked rice. Stir to combine and cook for about 3-4 minutes, or until the rice is heated through.

Stir in the cooked eggs, green onions, soy sauce, and sesame oil. Cook for another 2 minutes, stirring to combine all the ingredients.

Season with salt and pepper to taste, and serve immediately.
Nutrition
Calories:
370
kcal
Carbohydrates:
53
g
Protein:
13
g
Fat:
12
g
Saturated Fat:
2
g
Polyunsaturated Fat:
3
g
Monounsaturated Fat:
6
g
Cholesterol:
125
mg
Sodium:
830
mg
Fiber:
3
g
Sugar:
4
g
Egg fried rice is a flavorful and versatile dish that's perfect for those busy weeknights when you need a quick and satisfying meal. By following our tips and using our delicious recipe, you can easily create a restaurant-quality egg fried rice in the comfort of your own kitchen. Don't be afraid to get creative with your choice of vegetables and seasonings, and enjoy the endless possibilities that egg fried rice has to offer!