The Egg Salad Sandwich is a classic and delicious lunch option that's enjoyed by people of all ages. This simple yet satisfying sandwich features creamy egg salad made from hard-boiled eggs, mayonnaise, and various seasonings, all nestled between slices of your favorite bread. Perfect for picnics, packed lunches, or a quick and easy meal at home, the Egg Salad Sandwich is a versatile and comforting dish. In this post, we'll share some tips for making the perfect Egg Salad Sandwich, a fantastic recipe for you to try, and the nutritional information, prep time, and cooking time for the dish. Let's get started!
How To Make Egg Salad Sandwich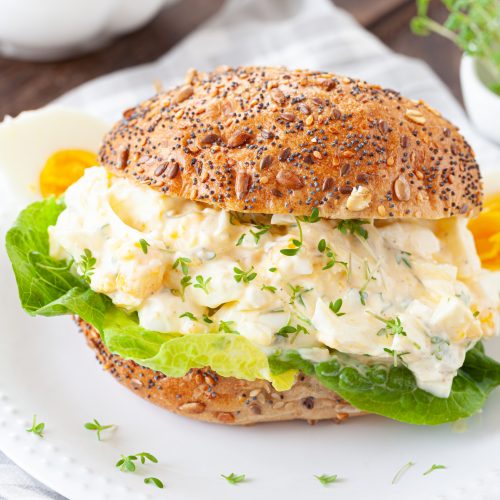 Egg Salad Sandwich: A Classic and Tasty Lunchtime Favorite
The Egg Salad Sandwich is a classic and delicious lunch option that's enjoyed by people of all ages.
Ingredients
6

large eggs

1/4

cup

mayonnaise

1

tbsp

Dijon mustard

1/4

cup

finely chopped celery

1/4

cup

finely chopped green onions

Salt and pepper, to taste

1/4

tsp

paprika (optional)

8

slices of bread (white, whole wheat, or your choice)

Lettuce leaves, for serving
Instructions
Place the eggs in a saucepan and cover them with water. Bring the water to a boil, then cover the saucepan and remove it from the heat. Let the eggs stand for 12 minutes.

Drain the eggs and place them in a bowl of ice water to cool. Once cooled, peel the eggs and chop them coarsely.

In a large bowl, combine the mayonnaise, Dijon mustard, celery, green onions, salt, pepper, and paprika (if using). Stir in the chopped eggs until well combined.

To assemble the sandwiches, place a lettuce leaf on one slice of bread, followed by a generous scoop of egg salad. Top with another slice of bread. Repeat with the remaining bread and egg salad. Serve immediately or refrigerate until ready to serve.
Nutrition
Serving:
1
g
Calories:
450
kcal
Carbohydrates:
28
g
Protein:
20
g
Fat:
29
g
Saturated Fat:
6
g
Polyunsaturated Fat:
10
g
Monounsaturated Fat:
11
g
Cholesterol:
335
mg
Sodium:
720
mg
Fiber:
-13
g
Sugar:
5
g
The Egg Salad Sandwich is a timeless and delicious lunch option that's perfect for any occasion. By following our tips and using our delectable recipe, you can create a restaurant-quality Egg Salad Sandwich in the comfort of your own home. Don't be afraid to experiment with different seasonings, breads, and toppings to create your own unique and scrumptious Egg Salad Sandwich. So why wait? Give this classic lunchtime favorite a try today!