Creating an Egg White Smoothie is a fantastic way to add protein to your diet while enjoying a refreshing and healthy drink. Egg whites are rich in protein and low in calories, making them an ideal addition to your smoothie routine.
Tips for the Perfect Egg White Smoothie:
Use Pasteurized Eggs: To ensure safety, especially if you have concerns about raw eggs, use pasteurized egg whites, which have been heat-treated to kill any potential bacteria.
Stiff Peaks: Whip the egg whites until they form stiff peaks. This adds a light and airy texture to your smoothie.
Frozen Berries: Using frozen berries not only adds flavor and nutrition but also makes your smoothie wonderfully chilled.
Sweetener: Adjust the sweetness to your liking. If your fruit is ripe and sweet, you may not need to add any extra sweeteners.
Variations: Feel free to get creative with your smoothie by adding ingredients like spinach for added nutrients or a scoop of protein powder for extra protein.
How To Make Egg White Smoothie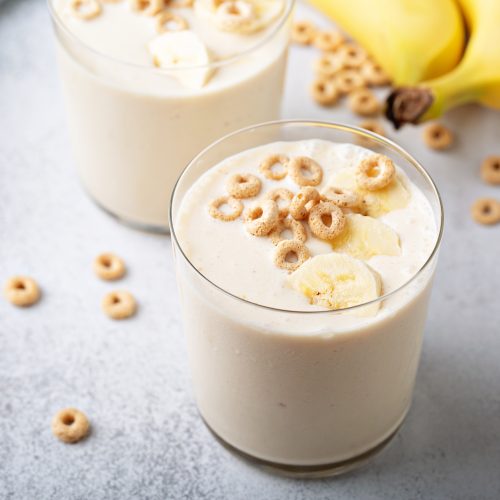 Egg White Smoothie Recipe
Creating an Egg White Smoothie is a fantastic way to add protein to your diet while enjoying a refreshing and healthy drink.
Ingredients
2

egg whites (pasteurized for safety)

1/2

cup

plain Greek yogurt

1/2

cup

unsweetened almond milk (or milk of your choice)

1

ripe banana

1/2

cup

frozen mixed berries (strawberries, blueberries, raspberries)

1

tbsp

honey or maple syrup (optional, for sweetness)

1/2

tsp

vanilla extract

Ice cubes (optional, for thickness)
Instructions
Prepare the Egg Whites:

Crack the eggs and carefully separate the egg whites from the yolks. Ensure there is no yolk in the whites, as even a small amount of yolk can prevent the whites from whipping properly.

Whip the Egg Whites:

Using a clean and dry bowl, beat the egg whites with an electric mixer until stiff peaks form. This will take a few minutes. Stiff peaks mean that the egg whites hold their shape when the beaters are lifted.

Blend the Smoothie:

In a blender, combine the Greek yogurt, almond milk, ripe banana, frozen mixed berries, honey or maple syrup (if using), and vanilla extract. Blend until smooth.

Incorporate the Egg Whites:

Gently fold the whipped egg whites into the blended smoothie mixture. Use a spatula to combine them without deflating the egg whites' volume.

Adjust Thickness:

If you prefer a thicker smoothie, you can add a few ice cubes and blend again until your desired consistency is reached.

Serve and Enjoy:

Pour your Egg White Smoothie into a glass, garnish with some fresh berries or a mint leaf if desired, and enjoy immediately!
Nutrition
Serving:
1
g
Calories:
200
kcal
Carbohydrates:
35
g
Protein:
15
g
Fat:
1
g
Fiber:
5
g
Sugar:
18
g
This Egg White Smoothie is a great post-workout recovery drink or a healthy breakfast option. It's packed with protein, vitamins, and antioxidants from the berries and is sure to keep you energized throughout the day. Enjoy the benefits of egg whites in this delicious and nutritious beverage!