Eggs Florentine is an elegant and delicious brunch dish that offers a tasty, veggie-packed alternative to the well-known Eggs Benedict. This classic meal features poached eggs served on a bed of sautéed spinach and toasted English muffins, all topped with a velvety, homemade hollandaise sauce. In this post, we'll share a delightful Eggs Florentine recipe, along with the nutritional information, prep time, and cooking time for the dish. Get ready to impress your guests with this sophisticated and mouthwatering recipe!
Tips for Making Eggs Florentine
Use fresh spinach: Fresh spinach offers a better taste and texture compared to frozen spinach for this dish.
Make hollandaise sauce from scratch: A homemade hollandaise sauce is more flavorful and luxurious than store-bought alternatives.
Poach eggs to perfection: For a perfectly poached egg, use fresh eggs and maintain the water temperature just below boiling.
Toast the English muffins: Toasting the muffins adds a pleasant crunch and prevents them from becoming soggy.
How To Make Eggs Florentine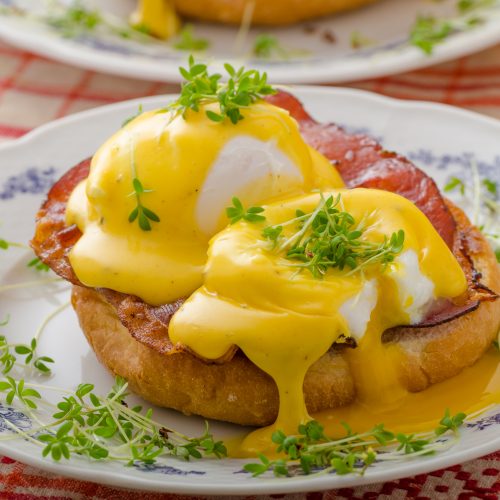 Eggs Florentine: A Sophisticated and Flavorful Spin on a Classic Brunch Dish
Eggs Florentine is an elegant and delicious brunch dish that offers a tasty, veggie-packed alternative to the well-known Eggs Benedict.
Ingredients
4

large eggs

4

cup

fresh spinach, stems removed

2

English muffins, split and toasted

2

tbsp

butter

Salt and pepper, to taste

1

cup

hollandaise sauce (homemade or store-bought)
Instructions
In a large skillet, melt the butter over medium heat. Add the spinach and cook until wilted, about 2-3 minutes. Season with salt and pepper to taste. Remove from heat and set aside.

Bring a large saucepan of water to a simmer, and add a splash of white vinegar. Crack each egg into a small bowl or ramekin, then carefully slide them into the simmering water. Poach the eggs for 3-4 minutes, until the whites are set but the yolks are still runny. Use a slotted spoon to remove the eggs from the water, and drain on paper towels.

Assemble the Eggs Florentine by placing a toasted English muffin half on each plate. Top with a generous portion of sautéed spinach, followed by a poached egg. Drizzle each serving with hollandaise sauce, and season with additional salt and pepper, if desired.

Serve immediately and enjoy your elegant Eggs Florentine!
Nutrition
Serving:
1
g
Calories:
410
kcal
Carbohydrates:
27
g
Protein:
18
g
Fat:
27
g
Saturated Fat:
13
g
Polyunsaturated Fat:
2
g
Monounsaturated Fat:
10
g
Cholesterol:
385
mg
Sodium:
720
mg
Fiber:
3
g
Sugar:
4
g
Eggs Florentine is a sophisticated and delicious dish that is perfect for a special brunch, weekend breakfast, or even a light dinner. With its combination of tender poached eggs, sautéed spinach, and rich hollandaise sauce, it's a meal that is sure to impress your friends and family. By following our easy-to-follow recipe and tips, you'll be able to create a beautiful and flavorful Eggs Florentine that rivals those found in your favorite café or restaurant. So, the next time you're in the mood for a fancy brunch, give this delightful Eggs Florentine recipe a try!