A protein smoothie is a fantastic way to kickstart your day or replenish your energy post-workout. Packed with muscle-nourishing protein, vitamins, and minerals, this refreshing drink not only tastes great but also fuels your body with essential nutrients. Whether you're a fitness enthusiast or just looking for a nutritious breakfast option, this protein smoothie recipe is a versatile choice. You can customize it with your favorite fruits, greens, and protein sources. Let's dive into creating this delicious and healthy concoction.
Tips for the Perfect Protein Smoothie:
Customize it: Feel free to experiment with different fruits, greens, and protein flavors. Some popular additions include kale, chia seeds, flaxseeds, and cocoa powder.
Protein powder choices: Select a high-quality protein powder that suits your dietary preferences. Options range from whey and casein to plant-based proteins like pea, hemp, or brown rice protein.
Texture matters: Adjust the thickness by adding more or less liquid (milk or water) to meet your preferences.
Freeze your fruits: For an even creamier texture, freeze fresh fruits like bananas, berries, or mango chunks before using them in your smoothie.
Pre-pack for convenience: Prepare smoothie packs by portioning out ingredients and freezing them in advance. This makes morning blending a breeze.
Balance sweetness: Use ripe fruits or a touch of honey to sweeten your smoothie naturally. Avoid adding excessive refined sugars.
Blend well: Ensure thorough blending to avoid any lumps or chunks in your smoothie.
How To Make Protein Smoothie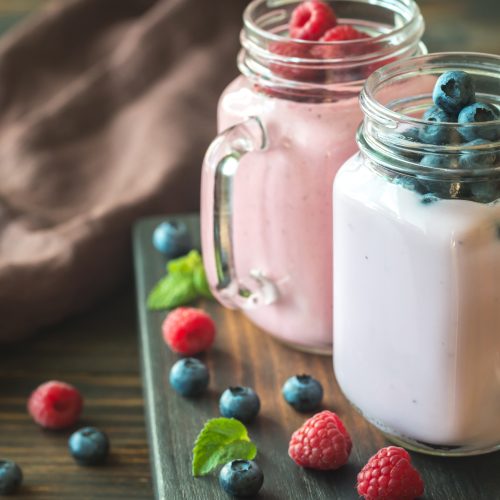 Energizing Protein Smoothie Recipe Introduction:
A protein smoothie is a fantastic way to kickstart your day or replenish your energy post-workout.
Ingredients
1

cup

unsweetened almond milk (or any milk of your choice)

1

ripe banana (frozen for a thicker consistency)

1/2

cup

Greek yogurt (plain or flavored)

1

scoop

your preferred protein powder (whey, plant-based, etc.)

1

tbsp

natural almond or peanut butter

1/2

cup

fresh spinach leaves (optional, for added nutrients)

1/2

cup

frozen mixed berries (strawberries, blueberries, raspberries)

1

tsp

honey or maple syrup (optional, for added sweetness)

Ice cubes (optional, for a colder texture)
Instructions
Start by adding the unsweetened almond milk to your blender. Adjust the quantity of milk based on your desired consistency; more milk for a thinner smoothie, less for a thicker one.

Next, add the ripe banana, Greek yogurt, and protein powder to the blender. These ingredients provide the base and primary protein source for your smoothie.

If you're looking to boost the nutrition of your smoothie, add fresh spinach leaves to the mix. They are rich in vitamins and minerals while contributing to the vibrant green color of the smoothie.

Toss in the frozen mixed berries. Berries not only add natural sweetness but also provide antioxidants and fiber.

For a touch of nutty richness, include a tablespoon of almond or peanut butter.

If you prefer a sweeter smoothie, add a teaspoon of honey or maple syrup. Taste and adjust the sweetness to your liking.

If you like your smoothie extra chilly, toss in a few ice cubes.

Blend all the ingredients until you achieve a smooth and creamy consistency.

Pour your protein smoothie into a glass, and it's ready to enjoy!
Nutrition
Serving:
1
g
Calories:
330
kcal
Carbohydrates:
45
g
Protein:
25
g
Fat:
2
g
Sodium:
250
mg
Potassium:
700
mg
Fiber:
9
g
Sugar:
25
g
Vitamin A:
600
IU
Vitamin C:
20
mg
Calcium:
350
mg
Iron:
3
mg
Now, you have the key to whipping up a nutritious and delicious protein smoothie. Whether you enjoy it as a quick breakfast or a post-workout recovery drink, this recipe provides a perfect balance of protein, fiber, and flavor to keep you energized and satisfied. Cheers to a healthier you!