An egg white omelette is a nutritious and protein-packed breakfast option that's low in calories and cholesterol. It's perfect for those looking to start their day with a healthy, filling meal. In this recipe blog, we'll show you how to make a delicious and fluffy egg white omelette, along with some tips to ensure it turns out perfectly.
Tips for the Perfect Egg White Omelette:
Use a non-stick skillet to prevent the omelette from sticking to the pan.
You can customize your omelette with your favorite vegetables, herbs, or lean proteins like diced turkey or chicken breast.
Be patient and cook the omelette over medium-low heat to avoid overcooking or browning.
How To Make Egg White Omelette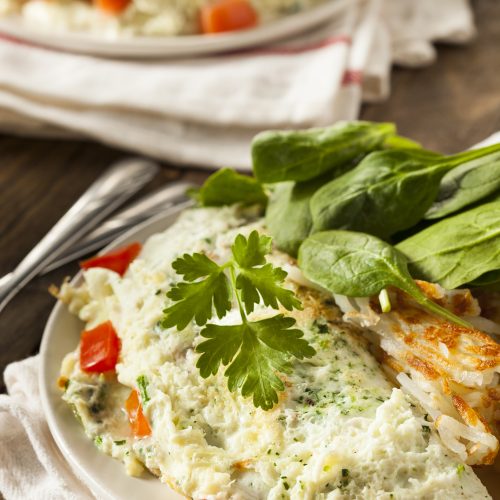 Healthy Egg White Omelette Recipe
An egg white omelette is a nutritious and protein-packed breakfast option that's low in calories and cholesterol.
Ingredients
4

large egg whites

1/4

cup

diced bell peppers (red, green, or yellow)

1/4

cup

diced onions

1/4

cup

diced tomatoes

1/4

cup

chopped fresh spinach

2

tbsp

grated low-fat cheese (optional)

Salt and pepper to taste

Cooking spray or a small amount of olive oil for the pan
Instructions
Carefully separate the egg whites from the yolks. You can do this by cracking the eggs and transferring the egg whites into a clean bowl while discarding the yolks.

Whisk the egg whites in a bowl until they become slightly frothy. This will make your omelette light and fluffy.

In a separate bowl, combine the diced bell peppers, onions, tomatoes, and chopped spinach. These colorful vegetables will add flavor and nutrients to your omelette.

Heat a non-stick skillet over medium-low heat. You can use cooking spray or a small amount of olive oil to prevent sticking.

Once the pan is heated, pour in the whisked egg whites. Allow them to cook undisturbed for a minute or two until the edges start to set.

Sprinkle the vegetable mixture evenly over one-half of the omelette.

Season the egg whites with salt and pepper. Carefully fold the other half of the omelette over the vegetables, creating a half-moon shape.

Continue cooking for another 2-3 minutes or until the omelette is fully set, but still slightly fluffy in the center.

If you're using cheese, sprinkle it over the omelette just before folding it in half. The residual heat will melt the cheese.

Carefully slide the omelette onto a plate, and it's ready to serve. Garnish with extra fresh herbs or a dash of hot sauce if desired.
Nutrition
Serving:
1
g
Calories:
60
kcal
Carbohydrates:
4
g
Protein:
12
g
Fiber:
1
g
Sugar:
2
g
Vitamin A:
150
IU
This healthy egg white omelette is a fantastic way to start your day with a protein boost and a variety of colorful vegetables. It's not only delicious but also guilt-free, making it an excellent choice for a wholesome breakfast. Enjoy!