If you're a fan of comforting and flavorful noodle soups, you're in for a treat. Our homemade Egg Drop Ramen is a delightful fusion of Asian flavors and cozy comfort food. This dish combines the simplicity of ramen noodles with the richness of a silky egg drop soup, resulting in a bowl of warmth and deliciousness. Whether you're a beginner or a seasoned home cook, this recipe is quick, easy, and bound to satisfy your taste buds.
Tips for Perfect Egg Drop Ramen:
Fresh Ingredients: For the best flavor, use fresh garlic, ginger, and green onions.
Customize Toppings: Get creative with your toppings. Sautéed mushrooms, blanched spinach, or even a dash of sriracha sauce can enhance your bowl.
Serve Immediately: Egg Drop Ramen is at its best when served right away. The silky egg ribbons are most enjoyable when fresh.
Vegetarian/Vegan Option: To make this dish vegetarian or vegan, use vegetable broth and skip the eggs. You can replace the eggs with tofu cubes or simply enjoy it as a flavorful vegan noodle soup.
How To Make Egg Drop Ramen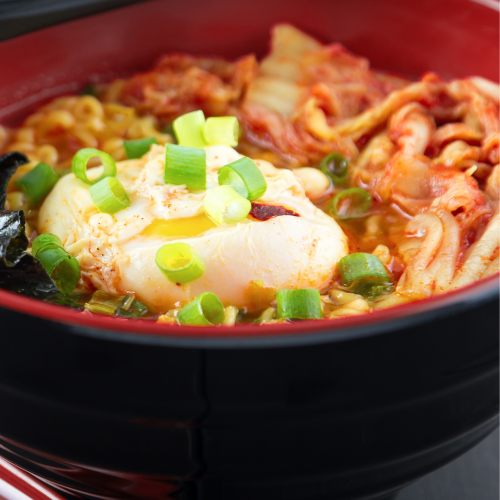 Homemade Egg Drop Ramen: Quick and Comforting Asian Noodle Soup
Ingredients
For the Broth:
4

cup

chicken or vegetable broth

1

tbsp

soy sauce

1

tsp

sesame oil

2

cloves garlic, minced

1

piece of ginger, grated

Salt and pepper to taste
For the Egg Drop:
2

large eggs

1

green onion, thinly sliced

Salt and pepper to taste
For the Ramen:
2

pack

ramen noodles (discard the seasoning packets)

Sliced green onions, for garnish

Optional toppings: sliced mushrooms, baby spinach, corn kernels, and bean sprouts
Instructions
Prepare the Broth:

In a large pot, heat the chicken or vegetable broth over medium-high heat. Stir in the soy sauce, sesame oil, minced garlic, and grated ginger. Bring the broth to a gentle simmer. Season with salt and pepper to taste. Adjust the seasoning as needed.

Cook the Ramen Noodles:

While the broth is simmering, cook the ramen noodles separately according to the package instructions. Drain the cooked noodles and set them aside.

Whisk the Eggs:

In a bowl, whisk the eggs until well combined. Season with a pinch of salt and pepper and add the thinly sliced green onions. Mix gently.

Egg Drop Technique:

Once the broth is simmering, reduce the heat to low. While gently stirring the broth in a clockwise direction, slowly pour the beaten egg mixture into the pot in a thin, steady stream. The eggs will cook almost instantly, forming delicate ribbons in the soup. Turn off the heat.

Assemble Your Bowl:

Divide the cooked ramen noodles among serving bowls. Carefully ladle the hot egg drop broth over the noodles.

Add Toppings (Optional):

Customize your Egg Drop Ramen by adding your favorite toppings such as sliced mushrooms, baby spinach, corn kernels, or bean sprouts.

Garnish and Serve:

Garnish each bowl with additional sliced green onions.Serve your homemade Egg Drop Ramen piping hot and enjoy the comforting flavors!
Nutrition
Serving:
1
g
Calories:
350
kcal
Carbohydrates:
45
g
Protein:
20
g
Fat:
15
g
Fiber:
3
g
Egg Drop Ramen is a soul-soothing dish that's both quick and satisfying. Whether you're looking for a cozy meal on a chilly day or a simple weeknight dinner option, this recipe has you covered. Enjoy the harmony of flavors and textures in every slurp of this delightful noodle soup.