The ketogenic diet is among the newest health interests of this time and age. (Almost) Everyone seems to want to be in ketosis. Granted, taking your health seriously is a very good thing. That's why I've prepared this delicious keto quail egg quiche. But it's not only for those who are on the keto diet! What's great about keto-friendly recipes is that they're suitable for anyone.
I like to care for myself, which involves my figure too. However, eating bland foods is not very exciting for me. Luckily, this particular recipe allows you to prepare an absolutely delicious meal. It's fluffy, it's savory, and it has bacon! Yummy!
Another thing I love about this quail egg quiche – besides the way it tastes – is how easy it is to prepare. Granted, the cooking time is something to take into consideration. You definitely won't be preparing this during the workweek. This beauty is a recipe for the weekend. Or at least for dinner. But I digress.
The nutritional profile for this keto quail egg quiche is remarkable. This meal is literally packed with healthy fats, protein, and fiber. This makes it an ideal recipe if you're an active person. Of course, since this is a keto recipe, I made sure to swap the wheat flour for almond flour.
How To Make Keto Quail Egg Quiche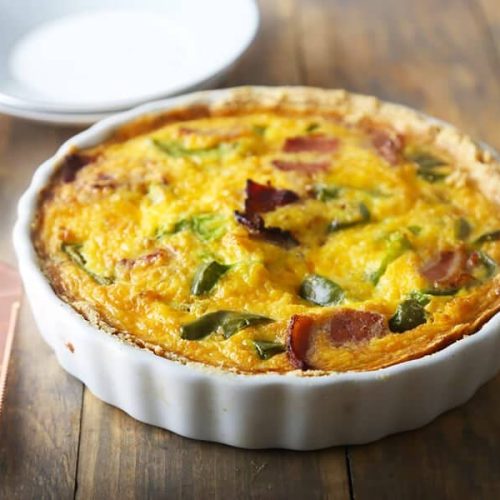 Keto Quail Egg Quiche With Bell Peppers And Cheddar
This delicious keto quail egg quiche has an impressive nutritional profile. And you don't have to be on the keto diet to make and enjoy it.
Ingredients
Crust
1½

cups almond flour

1

tsp

oregano

dried

¼ 

cup olive oil

extra virgin, Greek, if possible

¼

tsp

salt
Filling
30

Quail Eggs

1½

cups cheddar cheese

grated

1

green bell pepper

1

red bell pepper

1

cup bacon

in cubes

1

tsp

 garlic

dried or minced

½

tsp

pepper

½

tsp

salt
Instructions
Start by preheating your oven to 350 degrees Fahrenheit or 170 degrees Celsius. While the oven warms up, you'll have plenty of time to prepare your quiche.

Take a medium-sized pan. Add the bacon to the pan and start frying it. While the bacon is cooking, take a mixing bowl. Add the almond flour along with the dried oregano and 1/4 teaspoon of salt. Then, pour 1/4 cup olive oil to the bowl and mix using a fork. This will be the dough.

Keep an eye on the bacon while preparing the rest of the keto quail egg quiche. You don't want to burn it. After the dough takes form, start using your hands. Simply roll the dough into a bowl. If your dough is too dry and sticky, you can add a little extra olive oil. This way you will get the consistency right.

Next, grab a casserole dish or a fluted pie pan and spread the dough out on the bottom and the sides. Try to spread it as evenly as possible. Next, line it with parchment paper and fill it with baking beans or weights.

Place the dough in the oven and bake the crust for 10 minutes. This way it won't be fully cooked. You don't want it to be fully cooked. However, after blind baking, it will be cooked enough for the next step.

At this point, the bacon should be done. In order to remove excess fat, set it on paper towels. They'll take care of any excess fat. Then, dice the bell peppers and measure out 1 teaspoon garlic. Next, add them to the pan and cook them in the leftover bacon fat. Cook until soft and slightly brown.

Now it's time for the quail eggs. Cut or crack the eggs into a measuring jug and whisk them. Make sure you incorporate as much air as possible. This will make your quiche fluffy. Add the cheddar cheese, green bell pepper, garlic, bacon, salt, and pepper. Mix all of these again.

Remove the parchment paper with the baking weights from the crust. Pour the bacon and egg mixture into the crust and spread it out as needed. Then, put it back in the oven and bake for 20 minutes. It will be ready when the center is firm. After it's done, take the quiche out of the oven and set it aside to cool. Cut into slices and serve.
Nutrition
Calories:
788.57
kcal
Carbohydrates:
9.1
g
Protein:
19.29
g
Fat:
76.56
g
Saturated Fat:
25.18
g
Polyunsaturated Fat:
6.24
g
Monounsaturated Fat:
28.86
g
Cholesterol:
446.92
mg
Sodium:
590.49
mg
Potassium:
172.21
mg
Fiber:
3.91
g
Sugar:
2.64
g
Vitamin A:
1228.41
IU
Vitamin C:
41.44
mg
Calcium:
301.89
mg
Iron:
3.25
mg
The taste of bacon together with quail eggs is absolutely divine! Couple that with the texture and flavor of the veggies and the almond crust and you've got yourself an incredibly tasty meal. While it does take a while to prepare and cook this quail egg quiche, it's well worth it.
Let me know what you think about this recipe. If you liked it, don't forget to share it with your friends!