Angel Food Cake is a heavenly dessert known for its light and fluffy texture. Made primarily from egg whites, sugar, and a hint of vanilla, it's a delightful treat that's perfect for any occasion. In this recipe blog, we'll guide you through the steps to create your own ethereal Angel Food Cake. Get ready to impress your friends and family with this divine dessert!
Tips for Success:
Use room temperature egg whites for better volume when whipping.
Make sure your mixing bowl and beaters are clean and free of grease to achieve the best egg white whip.
Do not use a non-stick pan for Angel Food Cake; the cake needs to "climb" up the sides of the pan.
How To Make Angel Food Cake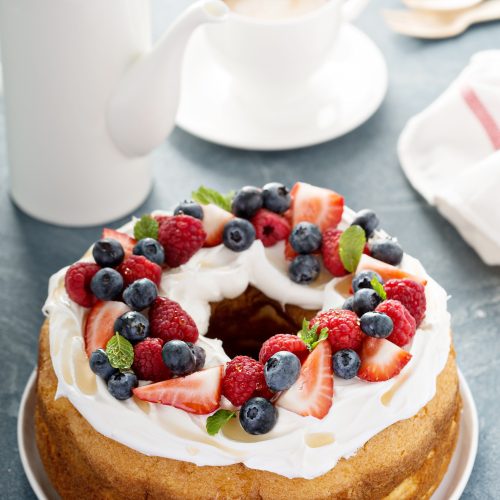 Light and Airy Angel Food Cake Recipe
Angel Food Cake is a heavenly dessert known for its light and fluffy texture.
Ingredients
For the Cake
1

cup

egg whites, at room temperature

1

tsp

cream of tartar

1

cup

granulated sugar

1

tsp

vanilla extract

1

cup

cake flour

1/4

tsp

salt
For Serving (Optional)
Fresh berries

Whipped cream
Instructions
Preheat your oven to 350°F (175°C). Ensure the oven rack is in the lowest position.
Use a 10-inch (25 cm) tube pan with a removable bottom. Do not grease the pan; Angel Food Cake needs to cling to the sides to rise properly.

In a bowl, sift together the cake flour and 1/2 cup of granulated sugar. Repeat the sifting process 3-4 times to ensure a light, airy texture.

In a large mixing bowl, beat the egg whites on medium speed until they become frothy.

Add the cream of tartar and continue beating the egg whites. The cream of tartar helps stabilize the egg whites and create a fluffy texture.

Gradually add the remaining 1/2 cup of sugar while continuing to beat the egg whites. Beat until stiff peaks form, and the mixture is glossy. This may take 5-7 minutes.

Gently fold in the vanilla extract.

Carefully fold the sifted flour mixture into the egg white mixture. Do this gently to avoid deflating the egg whites. Mix until just combined.

Spoon the batter into the ungreased tube pan and smooth the top.

Bake in the preheated oven for 40-45 minutes, or until the top is golden brown and the cake springs back when lightly touched.

Immediately upon removing the cake from the oven, invert the pan. You can use the pan's legs or the neck of a bottle to keep it elevated. This prevents the cake from collapsing as it cools.

Allow the cake to cool completely while inverted. This can take 1-2 hours.

Once cooled, run a knife around the edges to release the cake. Remove it from the pan.

Slice the Angel Food Cake and serve it with fresh berries and a dollop of whipped cream, if desired.
Nutrition
Serving:
10
g
Calories:
140
kcal
Carbohydrates:
31
g
Protein:
4
g
Sodium:
110
mg
Sugar:
23
g
Angel Food Cake is a classic dessert that's both elegant and satisfying. With its delicate crumb and subtle sweetness, it's the perfect canvas for a variety of toppings and fillings. Whether you're serving it as a simple, sweet ending to a meal or dressing it up for a special occasion, this cake is sure to impress.