Meringue cookies, with their delicate and ethereal texture, are a sweet treat that's both visually appealing and delightful on the palate. These Light and Airy Meringue Cookies are as much a delight to make as they are to savor. With just a handful of simple ingredients, you can create these crisp, melt-in-your-mouth confections that are perfect for any occasion. Whether you're serving them at a tea party, gifting them to friends and family, or simply indulging in a guilt-free sweet moment, these meringue cookies are sure to become a favorite in your dessert repertoire. So, let's dive into the world of meringue and create these little clouds of sweetness!
Tips for Perfect Meringue Cookies:
Ensure your mixing bowl and beaters are clean and free of any grease or residue.
Use room-temperature egg whites for maximum volume.
Gradually add sugar while beating the egg whites to create a stable meringue.
Be patient; whipping the meringue takes time, but the results are worth it.
If it's a humid day, your meringue may take longer to set in the oven.
How To Make Meringue Cookies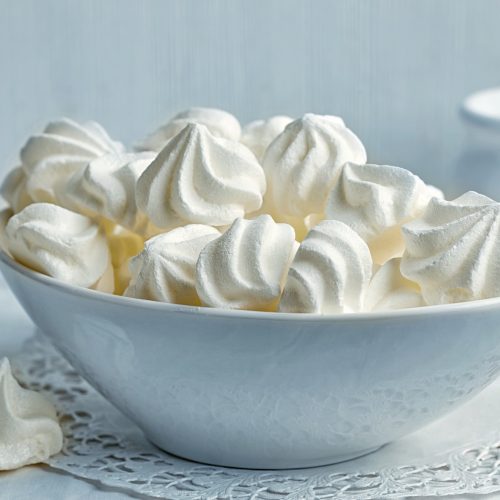 Light and Airy Meringue Cookies
Meringue cookies, with their delicate and ethereal texture, are a sweet treat that's both visually appealing and delightful on the palate.
Ingredients
3

large egg whites, at room temperature

3/4

cup

granulated sugar

1/4

tsp

cream of tartar

1

tsp

pure vanilla extract (optional)

Food coloring (optional)

Sprinkles or chocolate chips (optional)
Instructions
Preheat your oven to 225°F (110°C). Line a baking sheet with parchment paper or a silicone baking mat.

In a clean, dry mixing bowl, add the room-temperature egg whites and cream of tartar. Beat the egg whites on medium-high speed until they become foamy.

While continuing to beat, gradually add the granulated sugar one tablespoon at a time. Beat until the sugar is fully incorporated, and the mixture forms stiff, glossy peaks. This process can take about 5-7 minutes.

If desired, add vanilla extract for flavor and food coloring for color. Gently fold them into the meringue until evenly distributed. You can get creative with colors to match the theme of your cookies.

Transfer the meringue mixture into a piping bag fitted with a star tip or any tip of your choice. Pipe small mounds of meringue onto the prepared baking sheet, leaving some space between each cookie.

If you like, sprinkle each meringue cookie with colorful sprinkles or chocolate chips for extra flair.

Place the baking sheet in the preheated oven and bake for about 1 to 1.5 hours or until the meringue cookies are dry, crisp, and easily lift off the parchment paper. The cookies should not brown.

Once done, turn off the oven and leave the cookies inside to cool for about 1 hour. This helps prevent them from cracking due to sudden temperature changes.

Once the meringue cookies have cooled completely, gently peel them off the parchment paper or silicone mat. Store them in an airtight container to maintain their crispness.
Nutrition
Serving:
1
g
Calories:
15
kcal
Carbohydrates:
3
g
Sodium:
5
mg
Sugar:
3
g
These delicate, melt-in-your-mouth meringue cookies are perfect for any occasion. They're a delightful combination of sweet, crisp, and airy, making them a crowd-pleaser at parties, tea times, or as edible decorations for cakes and desserts. Enjoy your homemade meringue cookies!