Lemon bars are a delightful combination of sweet and tangy, making them a perfect treat for citrus lovers. This classic Lemon Bars recipe will have your taste buds dancing with joy. Let's dive into the world of zesty goodness.
Tips for Perfect Lemon Bars:
Use fresh lemon juice for the best flavor. It's worth the effort!
If you like an extra citrus punch, add a bit more lemon zest to the filling.
Allow the bars to cool completely before cutting for cleaner slices.
Dust the confectioners' sugar just before serving to keep it looking fresh.
Store leftover lemon bars in an airtight container in the refrigerator.
How To Make Lemon Bars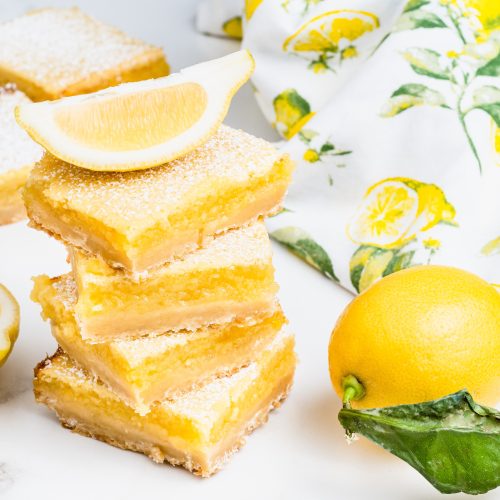 Luscious Lemon Bars: A Zesty Dessert Delight
Lemon bars are a delightful combination of sweet and tangy, making them a perfect treat for citrus lovers.
Ingredients
For the Crust
1

cup

unsalted butter, softened

1/2

cup

granulated sugar

2

cup

all-purpose flour

1/4

tsp

salt
For the Lemon Filling
2

cup

granulated sugar

4

large eggs

1/3

cup

all-purpose flour

1

tsp

grated lemon zest

1/2

cup

fresh lemon juice (about 4-5 lemons)

Confectioners' sugar, for dusting
Instructions
Preheat the Oven:

Preheat your oven to 350°F (175°C). Grease a 9×13-inch baking dish.

Prepare the Crust:

In a mixing bowl, cream together the softened butter and 1/2 cup granulated sugar until light and fluffy.Gradually add in 2 cups of flour and 1/4 teaspoon of salt, mixing until the dough comes together.Press the dough evenly into the bottom of the greased baking dish.Bake the crust in the preheated oven for about 20 minutes or until it's lightly golden.

Make the Lemon Filling:

In another bowl, whisk together 2 cups of granulated sugar and 1/3 cup of flour. Add the eggs, one at a time, mixing well after each addition. Stir in the grated lemon zest and fresh lemon juice. The mixture will thicken as you stir.

Assemble and Bake:

Pour the lemon filling over the hot, baked crust. Return the dish to the oven and bake for an additional 25-30 minutes, or until the filling is set and the edges are lightly golden. Remove from the oven and let it cool to room temperature.

Chill and Serve:

Once cooled, refrigerate the lemon bars for at least 2 hours to set.Cut into squares or bars and dust the tops with confectioners' sugar before serving.
Nutrition
Serving:
4
g
Calories:
180
kcal
Carbohydrates:
27
g
Protein:
2
g
Fat:
8
g
Saturated Fat:
5
g
Cholesterol:
50
mg
Sodium:
45
mg
Sugar:
18
g
These Lemon Bars are the epitome of a sweet and tangy dessert. With a buttery crust and a zesty lemon filling, they strike the perfect balance and are sure to brighten up any occasion. Enjoy this delightful treat!