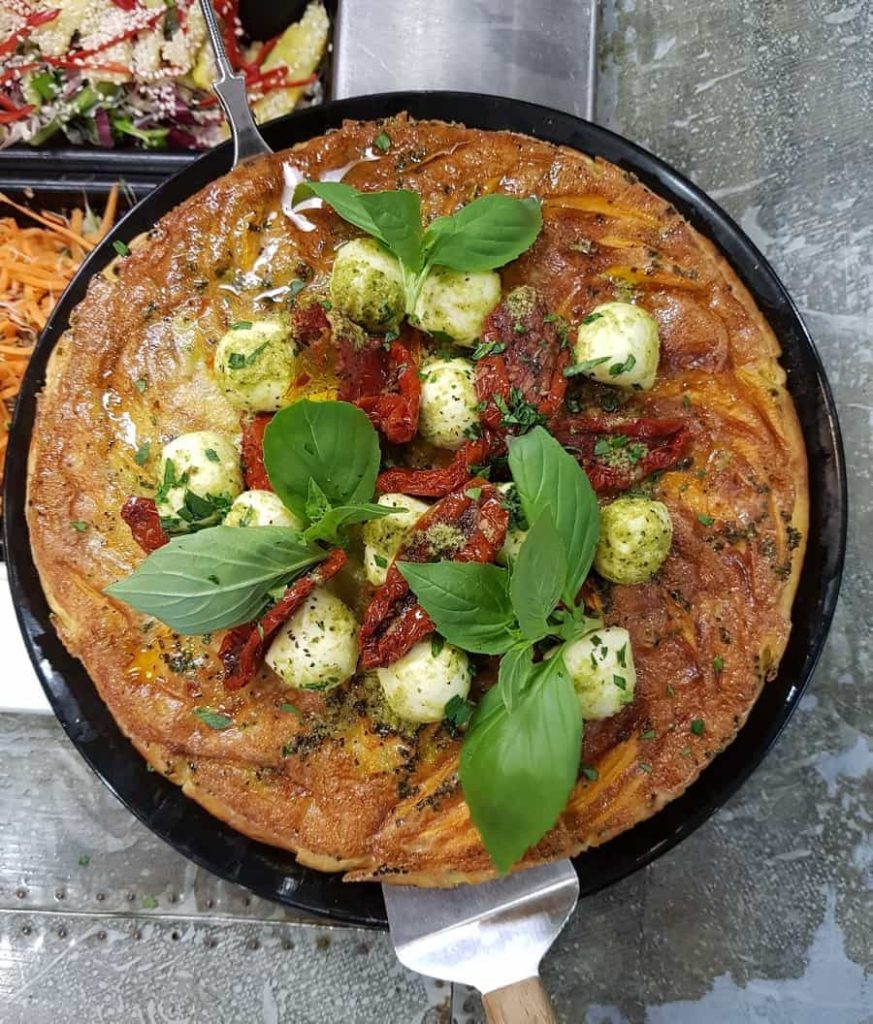 Who wouldn't love a low-calorie Italian quail egg frittata with delicious potatoes, pesto, and feta cheese? Especially when it's served with fresh, crunchy salad leaves? If you feel your taste buds craving this delicious dish, you're in for a treat!
The way the pesto's freshness meets the feta cheese's richness is truly out of this world! Besides, not only is this an easy potato frittata recipe with quail eggs that serves 4, but it'll also be ready in no time!
How To Make Quail Egg Frittatta with Pesto and Feta Cheese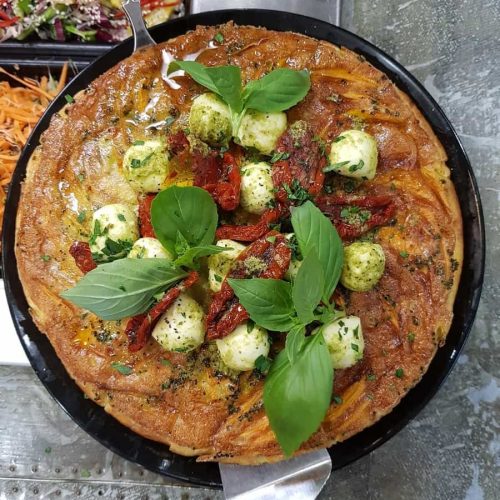 Quail Egg Frittata With Feta And Pesto
This is a flavorful, Italian-inspired recipe that goes well at any time of the day. It's rich, creamy, and satiating.
Ingredients
4

medium, thinly sliced potatoes

1

finely chopped garlic clove

40

lightly beaten quail eggs

1

tbsp

organic, cold-pressed olive oil

100

g

Goat's cheese

3

tbsp

Pesto sauce

a handful arugula leaves

a simple tomato and basil salad, to accompany the frittata
Instructions
Start off by preparing your main ingredients. This means you should slice about 4 medium-sized potatoes thinly after you've peeled the skins off. Then, proceed to chop one garlic clove finely and beat the quail eggs lightly. Also, don't forget to cut the goat's cheese.

Bring the potatoes to a boil in salted water. In the meantime, heat the oven to 220°C. Now mix together the garlic and eggs. Add some seasoning, such as pink Himalaya salt with herbs.Check on the potatoes. If they are tender, it's time to take them out, drain them and stir them into the egg mixture.

Check on the potatoes. If they are tender, it's time to take them out, drain them and stir them into the egg mixture.

Next, take the olive oil – it's preferable to choose an organic, extra virgin, cold-pressed olive oil – and sprinkle about 1 tablespoon onto an ovenproof frying pan. After you heat the oil up, add the egg and potato mixture to make the quail egg frittata.

Cook over low heat for 5 minutes or at least until about two-thirds of the frittata is set. Then, put the ovenproof frying pan into the oven and let it cook through for about 10-15 minutes.

Remove from the oven and let it cool for about a minute. Then, start arranging the goat's cheese pieces around the edges of the potato, quail egg frittata and drizzle some pesto over it. Of course, if you don't want to keep a very organized look, then you can place the cheese pieces randomly over the frittata, breaking them apart with your fingers as you release them.

Bake the frittata for 2 -3 minutes more. This will almost melt the cheese and give it a very light gold color.

This will make the flavors blend even more together when you eat it. Top it off with some delicious and crunchy rocket leaves and serve this delicious Italian egg dish with a simple tomato and basil salad.
Nutrition
Calories:
362.88
kcal
Carbohydrates:
23.47
g
Protein:
16.62
g
Fat:
22.58
g
Saturated Fat:
7.76
g
Cholesterol:
630.96
mg
Sodium:
532.3
mg
Potassium:
679.36
mg
Fiber:
3.13
g
Sugar:
3.18
g
Vitamin A:
1386.68
IU
Vitamin C:
26.29
mg
Calcium:
245.82
mg
Iron:
4.12
mg
If you don't have an oven-safe pan, just put a lid on and continue cooking the frittata on the stove until it's done. It's best to leave it on low heat to avoid burning the bottom layer. Another great thing about this recipe is that it keeps well in the fridge. If you don't eat it all the day you cook it, you can store it for tomorrow.