Spice up your mornings with Migas, a Tex-Mex egg and tortilla breakfast that's bursting with bold flavors and satisfying textures. This delectable dish combines eggs, crispy tortilla strips, tomatoes, onions, and jalapeños, all topped with melty cheese and fresh avocado. Follow our comprehensive guide, complete with prep and cooking times, detailed nutrition information, and expert tips to create the perfect Migas every time.
Tips for Making Amazing Migas:
Fry tortilla strips to perfection: To achieve crispy tortilla strips, fry them in a hot pan with a little oil until they're golden brown. Be sure to stir occasionally to ensure even cooking and prevent burning.
Customize your heat level: Migas can be as mild or spicy as you prefer. Adjust the heat by increasing or decreasing the amount of jalapeño pepper or using a milder or spicier pepper variety. You can also add a dash of hot sauce or serve with spicy salsa on the side.
Use fresh ingredients: Fresh, ripe tomatoes and high-quality cheese make a noticeable difference in the final dish. Choose fresh, seasonal tomatoes and good-quality Monterey Jack or Cheddar cheese for the best flavor and texture.
Don't overcook the eggs: Scrambled eggs should be cooked until just set but still moist and slightly creamy. Overcooked eggs become dry and rubbery, which is not ideal for Migas.
Personalize your toppings: Migas can be served with a variety of toppings to suit your taste. Try diced avocado, chopped cilantro, sour cream, or salsa to add extra flavor and texture to the dish.
How To Make Migas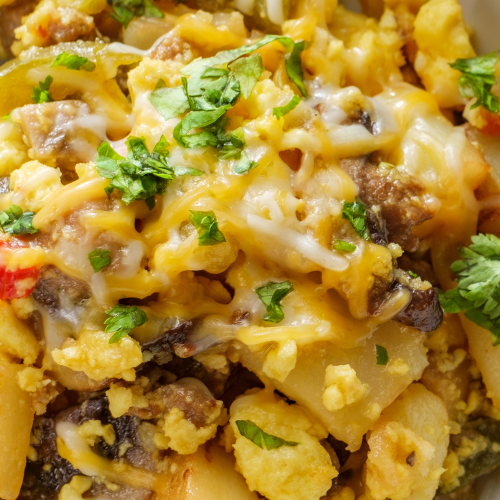 Savor a Flavorful Tex-Mex Breakfast with Migas: The Ultimate Egg and Tortilla Dish
Spice up your mornings with Migas, a Tex-Mex egg and tortilla breakfast that's bursting with bold flavors and satisfying textures.
Ingredients
4

large eggs

4

corn tortillas, cut into strips

2

tbsp

vegetable oil

1

small onion, chopped

1

jalapeño pepper, seeds removed and finely chopped

2

medium tomatoes, chopped

1/2

cup

shredded Monterey Jack or Cheddar cheese

Salt and black pepper, to taste

Optional toppings: diced avocado, chopped cilantro, sour cream, and salsa
Instructions
Heat 1 tablespoon of vegetable oil in a large non-stick skillet over medium heat. Add the tortilla strips and cook until they are crispy and golden brown, stirring occasionally to ensure even cooking. This should take about 3-4 minutes. Once cooked, transfer the tortilla strips to a plate and set aside.

In the same skillet, add another tablespoon of vegetable oil. Add the chopped onion and jalapeño pepper, and cook until the onion is softened and translucent, about 3-5 minutes.

While the onion and jalapeño are cooking, whisk the eggs in a bowl with a pinch of salt and black pepper.

Add the chopped tomatoes to the skillet with the onion and jalapeño, and cook for an additional 2-3 minutes, or until the tomatoes are slightly softened.

Reduce the heat to low and pour the whisked eggs into the skillet. Gently stir the eggs, onion, jalapeño, and tomatoes together, allowing the eggs to cook slowly and evenly.

When the eggs are almost fully cooked but still slightly soft, add the cooked tortilla strips and half of the shredded cheese to the skillet. Gently fold the ingredients together, allowing the cheese to melt.

Remove the skillet from the heat, and sprinkle the remaining cheese on top of the Migas. Cover the skillet with a lid or foil for a minute or two to allow the cheese to melt completely.

Serve the Migas hot, with your choice of optional toppings such as diced avocado, chopped cilantro, sour cream, and salsa.
Nutrition
Serving:
1
g
Calories:
410
kcal
Carbohydrates:
27
g
Protein:
20
g
Fat:
25
g
Saturated Fat:
8
g
Cholesterol:
350
mg
Sodium:
559
mg
Fiber:
4
g
Migas is a versatile and crowd-pleasing Tex-Mex breakfast that's both hearty and flavorful. By following our detailed guide and tips, you'll be well on your way to creating the perfect egg and tortilla dish for your friends and family. Whether you're serving it for a weekend brunch or a quick weekday breakfast, Migas is sure to become a staple in your culinary repertoire.