When it comes to a satisfying and savory breakfast, few things beat the simplicity and deliciousness of breakfast tacos. This recipe combines the classic duo of eggs and bacon with a Tex-Mex twist, making it a perfect morning meal or brunch option. These Egg and Bacon Breakfast Tacos are quick to prepare, customizable to your taste, and sure to become a favorite in your breakfast rotation. Let's dive into the details of creating this mouthwatering morning delight.
Tips to Make Perfect Egg and Bacon Breakfast Tacos:
For extra flavor, consider adding diced onions, bell peppers, or jalapeños to your scrambled eggs.
Experiment with different types of cheese, such as Monterey Jack or pepper jack, for a unique twist.
If you prefer a slightly healthier option, you can use turkey bacon or leaner cuts of bacon.
Warm tortillas gently to prevent them from becoming too crispy or dry.
These tacos are highly customizable, so feel free to get creative with your favorite breakfast ingredients.
How To Make Egg and Bacon Breakfast Tacos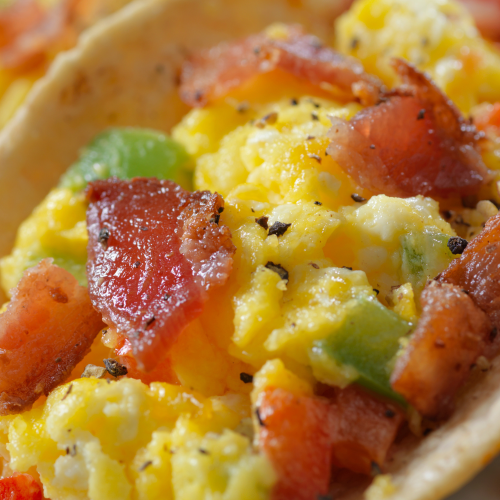 Savory Delight: Egg and Bacon Breakfast Tacos
When it comes to a satisfying and savory breakfast, few things beat the simplicity and deliciousness of breakfast tacos.
Ingredients
4

large eggs

4

slices of bacon

Salt and pepper to taste

1/2

cup

shredded cheddar cheese (optional)

Salsa, hot sauce, or pico de gallo for topping (optional)

4

small flour or corn tortillas
Instructions
Prepare the Bacon:

Heat a skillet over medium-high heat. Once hot, add the bacon slices.Cook the bacon until it's crispy, turning occasionally. This typically takes about 5-7 minutes.Once done, transfer the bacon to a paper towel-lined plate to remove excess grease. Crumble or chop it into small pieces and set it aside.

Scramble the Eggs:

In a bowl, crack the eggs and whisk them until well-beaten.Heat a non-stick skillet over medium heat and add a small amount of butter or oil.Pour the beaten eggs into the skillet, season with salt and pepper, and cook, stirring occasionally until they're just set but still slightly runny. This should take about 3-4 minutes.If you're using cheese, sprinkle it over the eggs and let it melt slightly.

Warm the Tortillas:

While the eggs are cooking, warm the tortillas. You can do this by wrapping them in a damp paper towel and microwaving them for about 20 seconds or heating them in a dry skillet for a few seconds on each side.

Assemble the Tacos:

Lay out the warm tortillas on a clean surface. Spoon the scrambled eggs (with or without cheese) evenly onto each tortilla. Sprinkle the crispy bacon pieces on top of the eggs.

Customize and Serve:

Customize your breakfast tacos by adding your favorite toppings. Salsa, hot sauce, chopped tomatoes, avocado slices, or fresh cilantro are all excellent choices.Fold the tortillas in half, and you're ready to serve!
Nutrition
Serving:
1
g
Calories:
350
kcal
Carbohydrates:
20
g
Protein:
18
g
Fat:
22
g
Saturated Fat:
7
g
Cholesterol:
250
mg
Sodium:
600
mg
Fiber:
3
g
Sugar:
1
g
Now, enjoy your Egg and Bacon Breakfast Tacos – a delightful start to your day!