Egg and Cheese Crepes are a mouthwatering culinary creation that bridges the gap between breakfast and dinner. These delicate, thin pancakes are filled with a rich mixture of scrambled eggs and melted cheese, making for a perfect combination of flavors. Whether you enjoy them as a satisfying brunch or a quick weeknight dinner, this recipe will surely become a family favorite.
Tips to Make Perfect Egg and Cheese Crepes:
Allow the crepe batter to rest for optimal texture.
Use a non-stick skillet for easy flipping and serving.
Experiment with different fillings like sautéed mushrooms, spinach, or cooked bacon.
Don't overfill the crepes to prevent them from tearing when folding.
Garnish with herbs or a dollop of sour cream for added flavor.
How To Make Egg and Cheese Crepes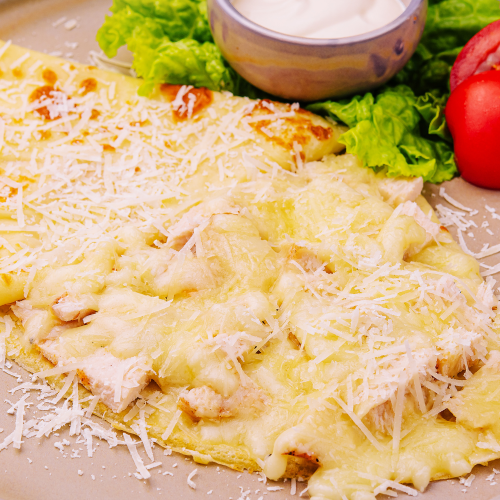 Scrumptious Egg and Cheese Crepes: A Savory Delight
Egg and Cheese Crepes are a mouthwatering culinary creation that bridges the gap between breakfast and dinner.
Ingredients
For the Crepes:
1

cup

all-purpose flour

1 1/2

cup

milk

2

large eggs

2

tbsp

melted butter

1/4

tsp

salt

Cooking spray or additional butter for the pan
For the Filling:
4

large eggs

1/2

cup

shredded cheddar cheese

1/2

cup

diced bell peppers

1/4

cup

diced onions

Salt and pepper to taste

Chopped fresh herbs (e.g., chives or parsley) for garnish (optional)
Instructions
Preparing the Crepe Batter:

In a blender, combine the flour, milk, eggs, melted butter, and salt. Blend until the mixture is smooth and well combined. Let the crepe batter rest for at least 30 minutes. This allows the flour to absorb the liquid and results in smoother, more tender crepes.

Cooking the Crepes:

Heat a non-stick skillet or crepe pan over medium-high heat. Lightly grease it with cooking spray or a small amount of butter. Pour a small ladleful of crepe batter into the center of the pan, swirling it to coat the bottom evenly. Cook the crepe for about 1-2 minutes or until the edges start to lift and the bottom is lightly golden. Carefully flip the crepe using a spatula and cook the other side for another 1-2 minutes. Remove it from the pan and set it aside. Repeat this process with the remaining batter, stacking the crepes on a plate with parchment paper in between to prevent sticking.

Preparing the Filling:

In a bowl, whisk the eggs and season with salt and pepper. Heat a non-stick skillet over medium heat. Add a little butter or oil. Pour the whisked eggs into the skillet and cook, stirring gently, until they are just set but still slightly runny. Remove from heat.

Assembling the Crepes:

Lay a cooked crepe flat on a clean surface or a plate. Spoon a portion of the scrambled eggs onto the center of the crepe. Sprinkle shredded cheddar cheese over the eggs. Add diced bell peppers and onions. Fold the sides of the crepe over the filling to create a square or rectangle shape.

Serving:

Garnish with freshly chopped herbs if desired. Serve your Egg and Cheese Crepes warm and enjoy!
Nutrition
Serving:
1
g
Calories:
300
kcal
Carbohydrates:
25
g
Protein:
15
g
Fat:
15
g
Fiber:
2
g
Sugar:
4
g
Egg and Cheese Crepes are versatile and can be customized to suit your taste. Whether you're serving them for breakfast, brunch, or dinner, these savory crepes are sure to delight your taste buds. Enjoy!