Candied nuts are a delectable treat that combines the satisfying crunch of nuts with a sweet, caramelized coating. Whether you're snacking on them, gifting them, or using them as a topping for salads and desserts, candied nuts add a delightful burst of flavor and texture. This recipe will guide you through creating your own batch of these irresistible candied nuts that are sure to become a household favorite.
Tips for Success:
Be cautious when working with hot sugar syrup, as it can cause severe burns. Keep a bowl of ice water nearby in case of accidental contact.
Customize your candied nuts by adding your favorite spices, such as a pinch of cayenne pepper for a spicy kick or a dusting of cocoa powder for a chocolatey twist.
Stir the nuts continuously while coating them with the sugar syrup to ensure an even coating.
How To Make Candied Nuts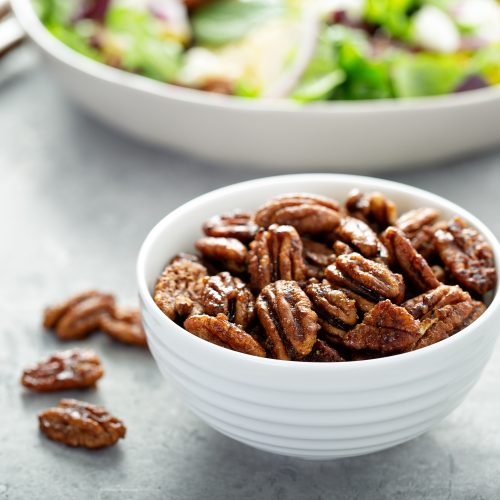 Sweet and Crunchy Candied Nuts: A Snack Time Delight
Candied nuts are a delectable treat that combines the satisfying crunch of nuts with a sweet, caramelized coating.
Ingredients
2

cup

mixed nuts (such as almonds, walnuts, and pecans)

1/2

cup

granulated sugar

1/4

cup

water

1/4

tsp

salt

1/2

tsp

ground cinnamon (optional)

1/4

tsp

vanilla extract (optional)
Instructions
Prep and Toast the Nuts:

Preheat your oven to 350°F (175°C).

Spread the mixed nuts evenly on a baking sheet and roast them in the preheated oven for about 8-10 minutes or until they become fragrant and slightly golden. Keep an eye on them to prevent burning.

Remove the nuts from the oven and set them aside to cool.

Prepare the Candied Coating:

In a saucepan over medium heat, combine the granulated sugar, water, salt, and ground cinnamon (if using). Stir until the sugar has dissolved.

Once the sugar has dissolved, stop stirring and let the mixture come to a boil. Allow it to boil undisturbed for about 3-4 minutes, or until it reaches the soft-ball stage (235°F/113°C).

Remove the saucepan from heat and stir in the vanilla extract (if using).

Coat the Nuts:

Add the toasted nuts to the sugar syrup and quickly stir to coat them evenly. Work fast as the syrup will begin to harden.

Once the nuts are well-coated, immediately transfer them to a parchment paper-lined baking sheet. Spread them out in a single layer, using a fork or spatula to separate any clumps.

Cool and Enjoy:

Let the candied nuts cool completely at room temperature. As they cool, the sugar coating will harden and become delightfully crunchy.

Once fully cooled, break the candied nuts apart into clusters.

Store your homemade candied nuts in an airtight container for up to two weeks. Enjoy them as a snack, use them as a topping for ice cream or salads, or package them as a thoughtful gift.
Nutrition
Serving:
1
g
Calories:
160
kcal
Carbohydrates:
10
g
Protein:
4
g
Fat:
13
g
Saturated Fat:
1
g
Sodium:
35
mg
Fiber:
2
g
Sugar:
7
g
Candied nuts are a delightful combination of sweet and savory, making them a fantastic addition to your snack repertoire. Whether you're sharing them with loved ones or indulging in a moment of self-care, these homemade candied nuts are sure to satisfy your cravings. Enjoy the irresistible crunch and sweet sophistication of this timeless treat!