Eggs Benedict is a beloved brunch staple known for its luxurious and indulgent flavors. This classic dish features a perfectly poached egg perched atop Canadian bacon or ham, all nestled on a toasted English muffin and smothered in rich, velvety Hollandaise sauce. In this post, we'll delve into the history of Eggs Benedict, offer some helpful tips for making this delicious dish at home, and share a fantastic recipe for you to try. So, let's begin our culinary adventure!
History of Eggs Benedict
The origin of Eggs Benedict is a topic of some debate, with multiple stories claiming to be the true source of this delightful dish. One popular account dates back to the 1860s when a Wall Street broker named Lemuel Benedict allegedly ordered the dish at New York's famed Waldorf-Astoria Hotel to cure a hangover. Impressed by his creation, the hotel's chef added the dish to the menu, and the rest is history. Regardless of its true origins, Eggs Benedict has become an iconic part of American brunch culture.
Tips for Perfect Eggs Benedict
Making Eggs Benedict at home might seem daunting, but with a few simple techniques and a bit of practice, you can create a restaurant-worthy dish in your own kitchen. Here are some key tips to keep in mind:
Poaching the eggs: The key to a great Eggs Benedict is a perfectly poached egg. To achieve this, crack your egg into a small bowl, then gently slide it into a pot of simmering water with a touch of vinegar. The vinegar helps the egg whites set more quickly, ensuring a neat, compact poached egg.
Toasting the English muffins: Toast your English muffins to a light, golden brown to give them a slightly crisp texture that will hold up to the other ingredients. Be sure to keep them warm as you prepare the other components of the dish.
Cooking the Canadian bacon or ham: Slightly brown and warm the Canadian bacon or ham in a skillet before assembling the dish. This step adds an extra layer of flavor and ensures that every element of your Eggs Benedict is served hot.
Preparing the Hollandaise sauce: The crowning glory of Eggs Benedict is the silky, buttery Hollandaise sauce. Making this sauce requires a bit of patience and attention, as you'll need to whisk the sauce continuously over a double boiler to prevent it from curdling. Alternatively, you can use a store-bought Hollandaise sauce if you prefer.
How to Make Eggs Benedict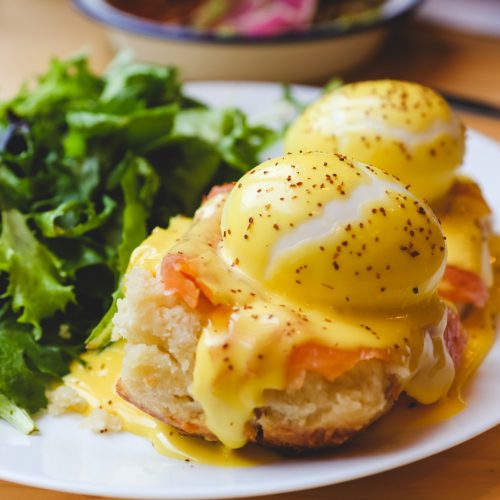 Eggs Benedict: A Decadent and Delicious Brunch Classic
Eggs Benedict is a beloved brunch staple known for its luxurious and indulgent flavors.
Ingredients
4

English muffins, split

8

slices Canadian bacon or ham

8

large eggs

1

tbsp

white vinegar

Hollandaise sauce (homemade or store-bought)

hopped parsley or chives, for garnish
Instructions
Toast the English muffins and keep them warm.

Cook the Canadian bacon or ham in a skillet until heated through and slightly browned. Set aside.

Fill a large saucepan with water, add the vinegar, and bring it to a gentle simmer.

Crack an egg into a small bowl and gently slide it into the simmering water. Repeat with the remaining eggs, cooking them in batches if necessary.

Poach the eggs for 3-4 minutes, or until the whites are set and the yolks are still runny.

Use a slotted spoon to remove the eggs from the water and drain on paper towels.

Assemble the Eggs Benedict: Place a slice of Canadian bacon on each English muffin half, top with a poached egg, spoon Hollandaise sauce over the top, and garnish with chopped parsley or chives.
Nutrition
Serving:
1
g
Calories:
750
kcal
Carbohydrates:
29
g
Protein:
28
g
Fat:
60
g
Polyunsaturated Fat:
4
g
Monounsaturated Fat:
20
g
Cholesterol:
520
mg
Sodium:
1320
mg
Fiber:
2
g
Sugar:
3
g
Eggs Benedict is a luxurious and delectable dish that's perfect for a special brunch or weekend treat. By following our helpful tips and using our tried-and-true recipe, you can impress your family and friends with this delicious classic. So, go ahead and elevate your brunch game with Eggs Benedict – your taste buds will thank you!
Logged in as The Quail Chef. Edit your profile. Log out? Required fields are marked *