Tomato and Egg Stir-Fry is a popular Chinese dish. It combines the simplicity of scrambled eggs with the sweetness and tanginess of tomatoes. It's a quick, easy, and nutritious meal that's perfect for busy weeknights or a leisurely weekend brunch. This dish is well-loved for its harmonious blend of flavors, with the savory eggs complementing the juicy, slightly acidic tomatoes.
Tips for Making Tomato and Egg Stir-Fry:
Use ripe, juicy tomatoes for the best flavor and texture.
Adjust the heat level by adding a pinch of red pepper flakes or a dash of hot sauce to the tomato mixture.
Feel free to customize this dish with additional vegetables, such as bell peppers, zucchini, or spinach.
If you prefer a saucier dish, add a splash of chicken or vegetable broth to the skillet while cooking the tomatoes.
For an even more substantial meal, serve the stir-fry over noodles or with a side of crusty bread.
How To Make Tomato and Egg Stir-Fry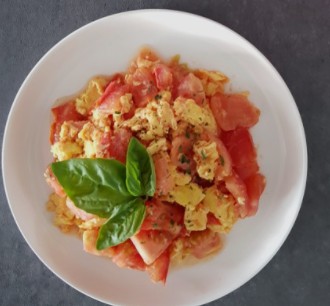 Tomato and Egg Stir-Fry: A Flavorful Chinese Dish for Any Time of Day
Tomato and Egg Stir-Fry is a popular Chinese dish that combines the sweetness of tomatoes with the richness of scrambled eggs.
Ingredients
4

large eggs

Salt and pepper, to taste

2

tbsp

vegetable oil

1

small onion, finely chopped

2

cloves garlic, minced

3

medium tomatoes, diced

1

tbsp

soy sauce

1

tsp

sugar

2

green onions, sliced

Optional: fresh cilantro or parsley, for garnish
Instructions
In a medium bowl, crack the eggs and season them with salt and pepper. Whisk until well combined.

Heat 1 tablespoon of vegetable oil in a large skillet over medium heat. Pour in the whisked eggs and cook, stirring occasionally, until softly scrambled. Transfer the cooked eggs to a plate and set aside.

In the same skillet, add the remaining tablespoon of oil and sauté the chopped onion until it's softened and translucent, about 3-4 minutes.

Add the minced garlic to the skillet and cook for another 30 seconds or until fragrant.

Stir in the diced tomatoes, soy sauce, and sugar. Cook the mixture for 5-7 minutes, or until the tomatoes have softened and released their juices.

Add the scrambled eggs back into the skillet with the tomato mixture, and gently stir to combine.

Cook for an additional 1-2 minutes, or until the eggs are heated through.

Remove the skillet from the heat and stir in the sliced green onions. Season with additional salt and pepper if needed.

Transfer the Tomato and Egg Stir-Fry to a serving platter and garnish with fresh cilantro or parsley if desired. Enjoy this flavorful dish with steamed rice or your favorite grain.
Nutrition
Serving:
1
g
Calories:
210
kcal
Carbohydrates:
13
g
Protein:
10
g
Fat:
13
g
Saturated Fat:
3
g
Cholesterol:
186
mg
Sodium:
350
mg
Fiber:
2
g
Sugar:
8
g
Tomato and Egg Stir-Fry is a versatile and delicious dish that showcases the beautiful flavors of fresh tomatoes and eggs. With its short prep and cooking time, this recipe is perfect for those who want a flavorful and nutritious meal without spending too much time in the kitchen. Give this simple Chinese classic a try, and enjoy the delightful combination of sweet tomatoes and egg. Egg Stir-Fry is not only a tasty and satisfying meal but also a great way to incorporate more vegetables and protein into your diet. Remember to use ripe tomatoes and feel free to customize the dish with your favorite vegetables or additional spices. Happy cooking!