Treat yourself to a gourmet breakfast that's both delicious and nutritious with our Baked Avocado Eggs recipe. This delightful dish features creamy avocados filled with perfectly cooked eggs, making for a satisfying and wholesome start to your day. In this post, we will provide you with a step-by-step Baked Avocado Eggs recipe, detailed nutrition information, and tips on how to customize and serve this flavorful breakfast creation.
Customizing Your Baked Avocado Eggs:
Add some cheese: Sprinkle grated cheese such as cheddar, mozzarella, or feta on top of the eggs before baking for a cheesy twist.
Spice it up: Season the avocado and egg with your favorite spices, like smoked paprika, cayenne pepper, or garlic powder, for added flavor.
Make it meaty: Top the avocado halves with cooked and crumbled bacon, sausage, or ham before adding the eggs for a protein-packed meal.
Add some greens: Serve the Baked Avocado Eggs on a bed of fresh spinach or arugula for added color and nutrition.
How To Make Baked Avocado Eggs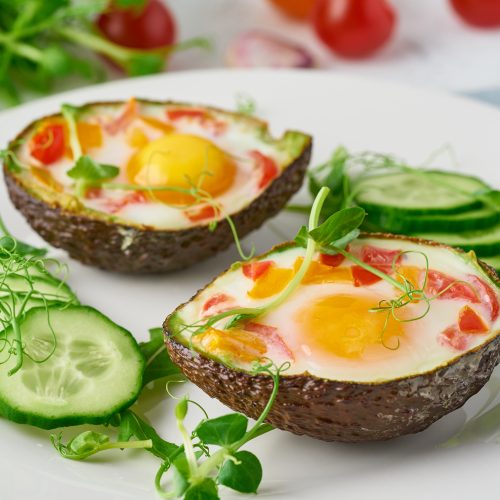 Baked Avocado Eggs – A Nutritious and Delicious Breakfast Treat
Treat yourself to a gourmet breakfast that's both delicious and nutritious with our Baked Avocado Eggs recipe.
Ingredients
2

ripe avocados

4

small eggs

Salt and pepper, to taste

1

tbsp

chopped cilantro

1

tbsp

crumbled feta cheese

Hot sauce, optional
Instructions
Preheat oven to 425°F (220°C).Slice avocados in half lengthwise and remove the pits.

Scoop out a little extra avocado to create a larger well for the eggs.

Place the avocado halves on a baking sheet or in a baking dish to keep them stable.

Carefully crack an egg into each avocado half, trying to keep the yolk intact and allowing the white to fill the well.

Season with salt and pepper.

Bake for 15-20 minutes, or until the egg whites are set and the yolks are cooked to your desired level of doneness.

Remove from the oven and top with chopped cilantro, crumbled feta cheese, and a drizzle of hot sauce, if desired. Serve immediately.
Nutrition
Serving:
1
g
Calories:
234
kcal
Carbohydrates:
9
g
Protein:
9
g
Fat:
20
g
Saturated Fat:
4
g
Polyunsaturated Fat:
3
g
Monounsaturated Fat:
13
g
Cholesterol:
186
mg
Sodium:
100
mg
Potassium:
566
mg
Fiber:
7
g
Sugar:
1
g
Calcium:
38
mg
Iron:
1
mg
Baked Avocado Eggs are a delicious and nutritious way to start your day. This simple yet impressive dish is sure to become a favorite in your breakfast repertoire. With our easy-to-follow recipe and customization tips, you can create a gourmet breakfast experience that will leave you feeling full and satisfied. Give Baked Avocado Eggs a try, and enjoy a scrumptious and wholesome meal that will fuel your day!