Strata is a delightful egg and bread casserole that's perfect for a weekend brunch or an easy weeknight dinner. This versatile dish can be customized with your favorite vegetables, cheeses, and meats, making it a crowd-pleasing option for any occasion. In this post, we'll share a delicious Strata recipe with detailed nutrition information, prep and cooking times, and helpful tips to ensure your casserole comes out perfectly every time.
Tips for Making Perfect Strata:
Use day-old bread for better absorption of the egg mixture and a firmer texture in the finished dish.
Customize your Strata by experimenting with different vegetables, cheeses, and meats to suit your taste preferences.
For a vegetarian Strata, simply omit the meat or substitute it with a plant-based alternative.
If you're short on time, you can speed up the refrigeration process by placing the assembled Strata in the freezer for about 30 minutes instead of refrigerating for 2 hours.
How To Make Strata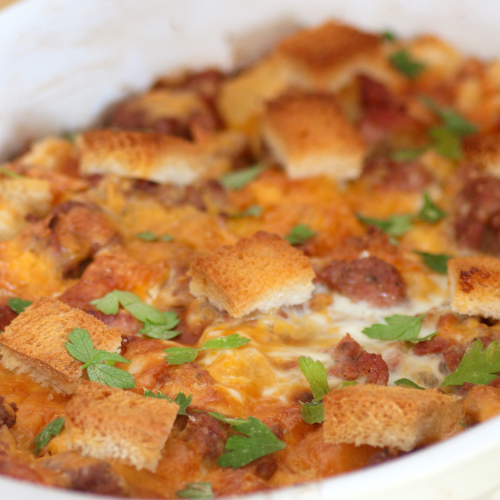 Brunch Made Easy: Strata – Egg and Bread Casserole
Strata is a delightful egg and bread casserole that's perfect for a weekend brunch or an easy weeknight dinner.
Ingredients
6

cup

cubed day-old bread (preferably a crusty variety like French or sourdough)

2

cup

grated cheese (such as cheddar, Swiss, or Gruyère)

1

cup

diced vegetables (such as bell peppers, onions, or mushrooms)

1

cup

cooked and crumbled bacon, sausage, or ham (optional)

8

large eggs

2 1/2

cup

milk

1

tsp

Dijon mustard

salt and black pepper

1/4

tsp

paprika
Instructions
In a large mixing bowl, combine the cubed bread, grated cheese, diced vegetables, and cooked meat (if using).

Grease a 9×13-inch baking dish and spread the bread mixture evenly in the dish.

In a separate bowl, whisk together the eggs, milk, Dijon mustard, salt, and black pepper. Pour the egg mixture over the bread mixture in the baking dish, ensuring that all the bread is soaked. Sprinkle paprika on top.

Cover the baking dish with plastic wrap and refrigerate for at least 2 hours, or overnight, to allow the bread to fully absorb the egg mixture.

When you're ready to bake the Strata, preheat your oven to 350°F (175°C).

Remove the plastic wrap from the baking dish and bake the Strata for 45-55 minutes, or until it's puffed, golden brown, and set in the center. A knife inserted into the center should come out clean.

Let the Strata rest for 10 minutes before slicing and serving.
Nutrition
Serving:
6
g
Calories:
350
kcal
Carbohydrates:
20
g
Protein:
22
g
Fat:
20
g
Sodium:
650
mg
Fiber:
2
g
Strata is a delicious and versatile egg and bread casserole that's perfect for any meal, from brunch to dinner. With countless flavor combinations and easy customization options, this dish is sure to become a favorite in your household. Follow our simple tips and instructions to create a mouthwatering Strata that everyone will love. Enjoy trying out different combinations of ingredients and making this dish your own. Bon appétit!