Custard pie is a timeless dessert that has graced family gatherings and special occasions for generations. In this recipe, we'll show you how to create a rich and creamy custard filling nestled in a buttery pie crust. Get ready to indulge in a slice of sweet nostalgia.
Tips for Perfect Custard Pie:
Keep your ingredients, especially the butter, cold when making the pie crust for a flaky result.
Be careful not to overbake the custard; it should be set but slightly jiggly in the center when you remove it from the oven.
Allow the custard pie to cool to room temperature before refrigerating to prevent condensation on the surface.
For added flavor, you can infuse the warm milk mixture with a split vanilla bean pod before adding it to the eggs.
Custard pie is delicious on its own, but you can also top it with whipped cream, fresh berries, or a drizzle of caramel sauce for extra indulgence.
How To Make Custard Pie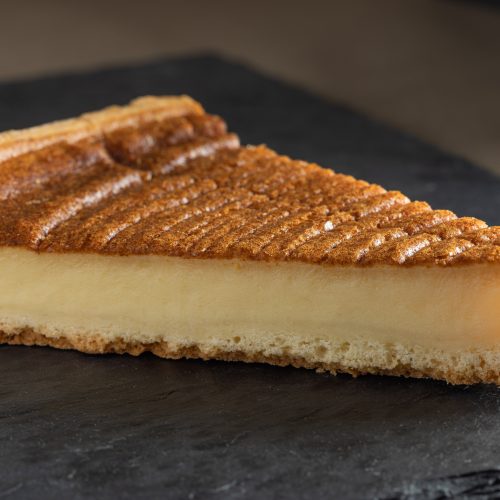 Classic Custard Pie: A Timeless Dessert Delight
Custard pie is a timeless dessert that has graced family gatherings and special occasions for generations.
Ingredients
For the Pie Crust
11/4

cup

all-purpose flour

1/2

tsp

salt

1/2

cup

unsalted butter, cold and cubed

3-4

tbsp

ice water
For the Custard Filling
11/2

cup

whole milk

1/2

cup

heavy cream

1

cup

granulated sugar

3

large eggs

1

tsp

vanilla extract

1/4

tsp

ground nutmeg (optional)

Pinch of salt
Instructions
Prepare the Pie Crust:

In a mixing bowl, combine the all-purpose flour and salt.Add the cold, cubed butter and use a pastry cutter or your fingers to work it into the flour until the mixture resembles coarse crumbs.Gradually add the ice water, one tablespoon at a time, and mix until the dough comes together.Form the dough into a disc, wrap it in plastic wrap, and refrigerate for at least 30 minutes.

Roll Out the Crust:

Preheat your oven to 375°F (190°C).On a floured surface, roll out the chilled dough into a circle large enough to line a 9-inch pie dish.Carefully transfer the dough to the pie dish and trim any excess, leaving a slight overhang. Crimp the edges decoratively.

Prebake the Crust:

Line the pie crust with parchment paper and fill it with pie weights or dried beans.Bake in the preheated oven for about 15 minutes, then remove the parchment paper and weights.Return the crust to the oven and bake for an additional 5-10 minutes, or until it's lightly golden. Remove from the oven and let it cool.

Prepare the Custard Filling:

In a saucepan, combine the whole milk, heavy cream, and sugar. Heat over medium heat, stirring until the sugar has dissolved. Remove from heat and let it cool slightly.In a separate bowl, whisk together the eggs, vanilla extract, ground nutmeg (if using), and a pinch of salt.Slowly pour the warm milk mixture into the egg mixture, whisking constantly to combine.

Assemble and Bake:

Pour the custard filling into the prebaked pie crust.Place the pie in the preheated oven and bake for 40-50 minutes, or until the filling is set around the edges but slightly jiggly in the center.Remove from the oven and let it cool to room temperature. Then refrigerate for a few hours or overnight to fully set.

Serve and Enjoy:

Slice your custard pie into wedges and serve chilled. You can dust the top with a sprinkle of ground nutmeg for an extra touch of flavor.
Nutrition
Serving:
8
g
Calories:
360
kcal
Carbohydrates:
35
g
Protein:
6
g
Fat:
22
g
Saturated Fat:
13
g
Cholesterol:
130
mg
Sodium:
220
mg
Sugar:
24
g
Custard pie is a dessert that stands the test of time, bringing comfort and nostalgia with every bite. Whether you're sharing it with loved ones or savoring it as a solo treat, this classic pie is sure to leave a lasting impression. Enjoy!