Zabaione, also known as zabaglione, is a classic Italian dessert known for its luscious, velvety texture and rich flavor. This delightful custard-like dessert is made by whipping together egg yolks, sugar, and a sweet wine, typically Marsala. It's a simple yet elegant dessert that's perfect for any occasion. In this recipe, we'll guide you through the steps to create this timeless Italian treat.
Tips to Make Perfect Zabaione:
Use fresh, high-quality eggs for the best flavor and texture.
Whisk continuously while cooking to avoid curdling or scrambling the eggs.
If you don't have Marsala wine, you can substitute it with another sweet wine or even a sweet liqueur like Grand Marnier.
How To Make Zabaione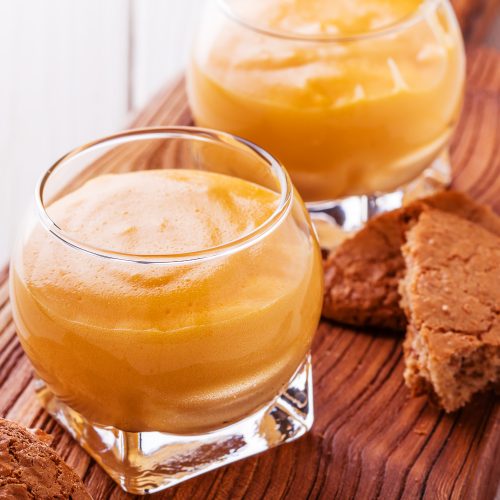 Classic Zabaione Recipe – A Velvety Italian Dessert
Zabaione, also known as zabaglione, is a classic Italian dessert known for its luscious, velvety texture and rich flavor.
Ingredients
6

egg yolks

1/2

cup

granulated sugar

1/2

cup

Marsala wine (you can also use other sweet wines like Vin Santo)

A pinch of salt

Optional: Fresh berries or fruit for garnish
Instructions
Fill a saucepan with about 2 inches of water and bring it to a simmer. Place a heatproof bowl on top of the saucepan to create a double boiler. Ensure that the bottom of the bowl doesn't touch the simmering water.

In the heatproof bowl, whisk together the egg yolks, sugar, and a pinch of salt until well combined.

Place the bowl over the simmering water and add the Marsala wine. Whisk continuously and vigorously to combine all the ingredients.

Continue to whisk the mixture over the simmering water. Be patient; it may take 10-15 minutes for the mixture to thicken. It should reach a custard-like consistency, thick enough to coat the back of a spoon.

Once the Zabaione has thickened, remove it from the heat. You can serve it warm immediately, or if you prefer it cold, let it cool to room temperature before refrigerating for a few hours.

Zabaione can be served plain or with fresh berries or fruit for a refreshing contrast. Spoon it into serving glasses or bowls and garnish as desired.
Nutrition
Serving:
1
g
Calories:
250
kcal
Carbohydrates:
29
g
Protein:
6
g
Fat:
9
g
Saturated Fat:
3
g
Cholesterol:
300
mg
Sodium:
40
mg
Sugar:
28
g
Zabaione is a delightful dessert that offers a taste of Italy in every spoonful. Its creamy, luxurious texture and sweet, wine-infused flavor make it a favorite for dessert enthusiasts. Whether you serve it at a dinner party or enjoy it as a special treat, Zabaione is sure to impress.
So, why not indulge in this classic Italian dessert and savor the velvety goodness of homemade Zabaione? Buon appetito!