Egg Drop Soup is a classic Chinese dish that's both comforting and delicious. This soothing soup features delicate ribbons of eggs cooked in a flavorful chicken broth, creating a delightful texture and a satisfying meal. Egg Drop Soup is perfect for a light lunch or dinner and is sure to become a favorite in your household. It's quick and easy to make, requiring just a few simple ingredients and a short prep and cooking time. In this post, we'll share our tasty homemade Egg Drop Soup recipe, complete with nutrition information and step-by-step instructions.
Tips for Making the Perfect Egg Drop Soup
Use low-sodium chicken broth for a healthier option. This will help you control the salt content of your soup and make it more suitable for those on a low-sodium diet.
When thickening the soup with cornstarch, make sure to mix it with cold water first to create a slurry. This will prevent lumps from forming in your soup.
To create the delicate egg ribbons, slowly drizzle the beaten eggs into the simmering broth while stirring in a circular motion.
Feel free to add extra ingredients to your Egg Drop Soup for added flavor and texture. Try adding thinly sliced mushrooms, diced tofu, or cooked shrimp for a more substantial meal.
How To Make Egg Drop Soup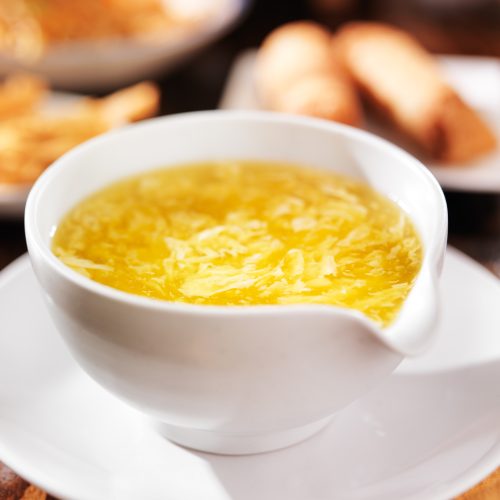 Comforting and Delicious Homemade Egg Drop Soup
Egg Drop Soup is a classic Chinese dish that's both comforting and delicious.
Ingredients
4

cup

chicken broth

1

tbsp

soy sauce

1

tsp

ground ginger

1

tbsp

cornstarch

2

tbsp

cold water

3

large eggs, lightly beaten

2

green onions, thinly sliced

Salt and white pepper, to taste
Instructions
In a large saucepan, combine the chicken broth, soy sauce, and ground ginger. Bring the mixture to a simmer over medium heat.

In a small bowl, mix the cornstarch with cold water to create a slurry. Stir the slurry into the simmering broth to thicken it slightly.

Slowly drizzle the beaten eggs into the saucepan while stirring the soup in a circular motion. The eggs will cook immediately, creating delicate egg ribbons.

Remove the saucepan from the heat, and season the soup with salt and white pepper to taste. Garnish with thinly sliced green onions before serving.
Nutrition
Serving:
1
g
Calories:
75
kcal
Carbohydrates:
3.2
g
Protein:
5.6
g
Fat:
4.3
g
Polyunsaturated Fat:
0.8
g
Monounsaturated Fat:
1.9
g
Cholesterol:
126
mg
Sodium:
586
mg
Potassium:
96
mg
Fiber:
0.1
g
Sugar:
0.5
g
Calcium:
28
mg
Iron:
0.8
mg
Egg Drop Soup is a delicious and comforting dish that's easy to prepare and perfect for any time of the year. With our simple recipe and helpful tips, you'll be able to create a tasty homemade version of this classic Chinese soup in no time. Give this recipe a try, and enjoy the delightful flavors and textures of Egg Drop Soup in the comfort of your own home.