Elevate your breakfast game with a Croissant Breakfast Sandwich, a delightful and indulgent way to start your day. This scrumptious creation combines the flaky, buttery goodness of croissants with crispy bacon, fluffy scrambled eggs, and creamy avocado. Whether you're looking for a special weekend treat or a weekday breakfast to savor, this sandwich has it all.
Tips for the Perfect Sandwich:
Use fresh, high-quality croissants for the best flavor and texture.
Customize your sandwich with ingredients like spinach, tomatoes, or a fried egg.
To make it healthier, you can use turkey bacon or egg whites.
Serve with a side of fresh fruit for a balanced meal.
How To Make Croissant Breakfast Sandwich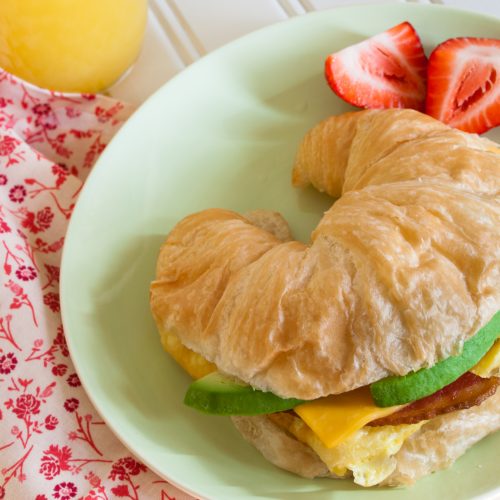 Croissant Breakfast Sandwich – A Luxurious Morning Treat
Elevate your breakfast game with a Croissant Breakfast Sandwich, a delightful and indulgent way to start your day.
Ingredients
2

croissants, split

4

large eggs

4

slices of bacon

1

ripe avocado, sliced

4

slices of Swiss cheese

2

tbsp

butter

Salt and pepper, to taste

Optional toppings: hot sauce, ketchup, or fresh herbs
Instructions
Cook the Bacon:

Heat a skillet over medium heat and cook the bacon until it's crispy and browned, about 4-5 minutes per side. Transfer to a paper towel-lined plate to drain excess grease.

Scramble the Eggs:

In a bowl, whisk the eggs together and season with salt and pepper.In the same skillet you used for the bacon (with some bacon grease left), melt 1 tablespoon of butter over medium-low heat.Pour the beaten eggs into the skillet and gently stir until they're softly scrambled and just set. Remove from heat.

Assemble the Sandwiches:

Slice the croissants in half and lightly toast them in a toaster or oven until they're warm and slightly crispy. Lay a slice of Swiss cheese on the bottom half of each croissant. Top the cheese with a portion of the scrambled eggs. Add a slice of crispy bacon to each sandwich. Place avocado slices on top of the bacon. Optionally, drizzle with hot sauce, ketchup, or sprinkle with fresh herbs for extra flavor.

Complete the Sandwiches:

Place the top half of each croissant over the assembled ingredients to form your sandwiches.

Serve and Enjoy:

Serve your Croissant Breakfast Sandwiches immediately while they're warm and oozy.
Nutrition
Serving:
1
g
Calories:
580
kcal
Carbohydrates:
25
g
Protein:
24
g
Fat:
43
g
Saturated Fat:
18
g
Cholesterol:
320
mg
Sodium:
820
mg
Fiber:
5
g
Sugar:
5
g
Enjoy your Croissant Breakfast Sandwich and savor every bite of this luxurious morning treat!