Egg crepes are an incredibly versatile and delicious dish that's perfect for breakfast, lunch, or even a light dinner. They are thin, delicate, and can be filled with an assortment of ingredients, making them a fantastic option for those who enjoy customizing their meals. In this blog post, we'll walk you through the steps to create perfect egg crepes every time, provide you with detailed nutrition information, and share some tips to elevate your crepe-making skills.
Tips for Making Perfect Egg Crepes:
Whisk the eggs thoroughly: To create a smooth, even batter, make sure to whisk the eggs well. You can use a fork, a whisk, or even an electric mixer. The goal is to incorporate air into the eggs, which will help make the crepes light and fluffy.
Use a non-stick skillet: A non-stick skillet is essential for making crepes. The thin batter is prone to sticking, so a non-stick surface will make flipping and cooking the crepes much easier. If you don't have a non-stick skillet, you can use a well-seasoned cast iron pan.
Keep the skillet at a medium-low heat: Cooking the crepes at a lower heat will prevent them from burning or overcooking. A medium-low heat will ensure that the crepes cook evenly without becoming too dark or crispy.
Pour a thin layer of batter: To achieve the delicate texture of a crepe, make sure to pour a thin layer of batter into the skillet. Tilt the skillet to evenly distribute the batter, covering the entire surface of the pan.
Flip gently: Use a thin, flexible spatula to gently lift the edge of the crepe before flipping. Be patient, and make sure the crepe is cooked enough on one side before attempting to flip it.
How To Make Egg Crepes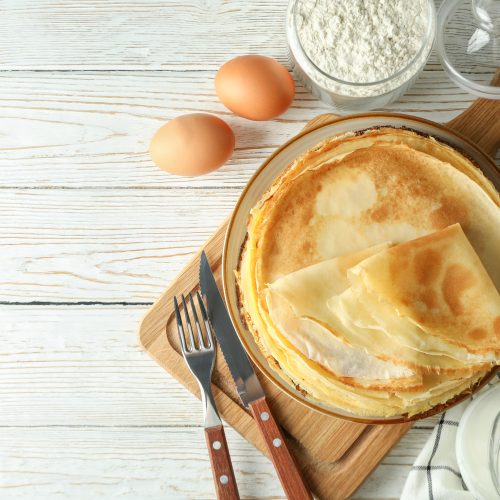 Delightful Egg Crepes: A Light and Tasty Meal
Egg crepes are an incredibly versatile and delicious dish that's perfect for breakfast, lunch, or even a light dinner.
Ingredients
4

large eggs

1/4

cup

whole milk or water

1/4

cup

all-purpose flour

1/4

tsp

salt

1/4

tsp

ground black pepper

2

tbsp

unsalted butter, divided

Optional fillings: sautéed vegetables, cheese, cooked meats, fresh fruits, yogurt, etc.
Instructions
In a medium mixing bowl, whisk together the eggs and milk or water until well combined.

Gradually whisk in the flour, salt, and black pepper, ensuring there are no lumps in the batter. The batter should be smooth and slightly thinner than pancake batter.

Preheat a non-stick skillet or a well-seasoned cast iron pan over medium-low heat. Add about 1/2 tablespoon of butter and allow it to melt, coating the pan evenly.

Pour about 1/4 cup of the egg batter into the skillet, tilting the pan to spread the batter evenly over the entire surface. The layer should be thin and cover the whole skillet.

Cook the crepe for about 1-2 minutes, or until the edges begin to lift and the bottom is lightly golden brown. Use a thin, flexible spatula to carefully flip the crepe, and cook for an additional 1-2 minutes on the other side.

Transfer the cooked crepe to a plate and keep it warm. Repeat the process with the remaining batter, adding more butter to the skillet as needed.

Once all the crepes are cooked, add your desired fillings to one half of each crepe. Fold the other half over the fillings and serve immediately.
Nutrition
Serving:
1
g
Calories:
210
kcal
Carbohydrates:
8
g
Protein:
13
g
Fat:
14
g
Saturated Fat:
4
g
Sugar:
1
g
egg crepes are a fantastic, customizable dish that is both simple to make and delightful to eat. By following our tips and recipe, you can whip up a batch of light, fluffy crepes in no time. Enjoy experimenting with different fillings and savoring the delectable taste of homemade egg crepes.